Belgium's POSSESSION and America's SPITE, jointly titled Passio Christi Part I / (Beyond the) Witch's Spell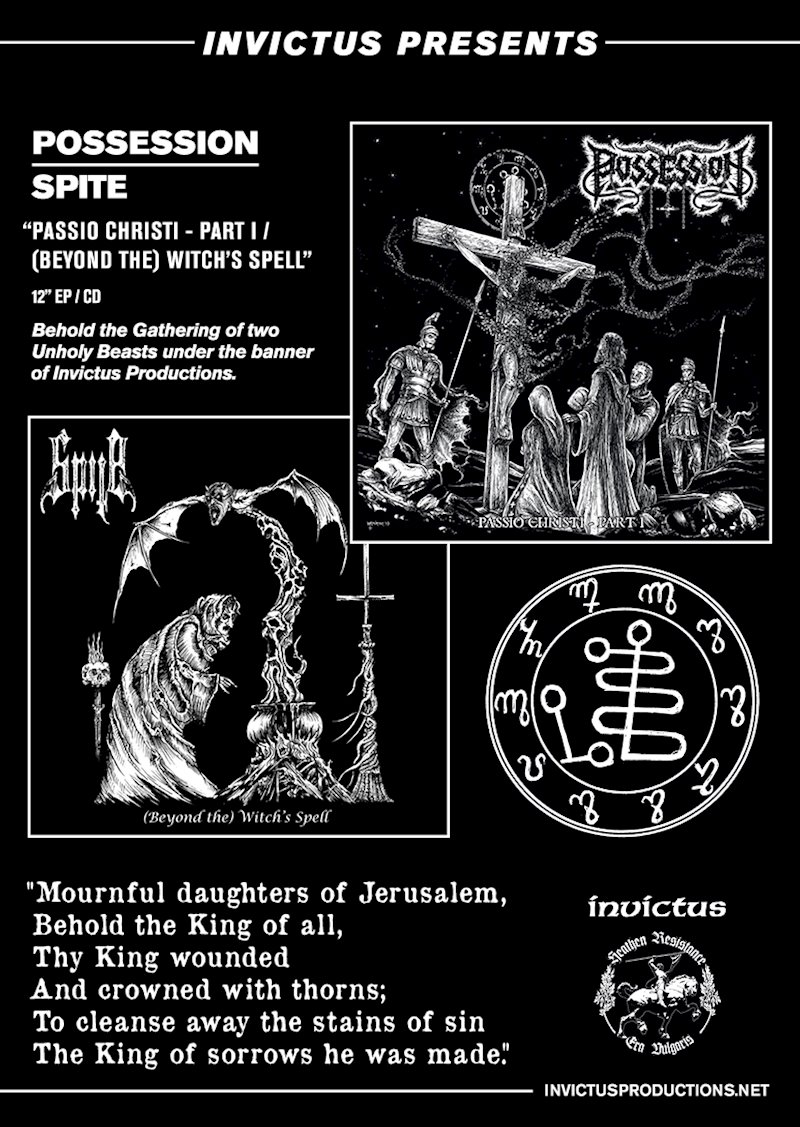 By now, POSSESSION should need little introduction. Since 2012, these stalwarts' ascent from the depths of the underground has been fiery, to say the very least. Organic but never exacting, their steady stream of short-length releases have revealed stark and horrifying truths, culminating in 2017's modern classic Exorkizein debut full-length, released jointly by INVICTUS and IRON BONEHEAD.
Continuing to strike while the iron's hot - RED fucking HOT - POSSESSION are releasing two separate split EPs, in complementary fashion, with likeminded hordes SPITE and VENEFIXION. Passio Christ Part I, their split with SPITE, sees them flexing more deathly muscles, hammering with unrelenting bestiality but putting forth a classic and most-ancient touch of Metal of Death. SPITE, from the United States, are suitably matched here: not only because they've kept a patiently spare release rate, as well as their debut album - 2018's masterful Antimoschiach - being released by INVICTUS, but mainman Salpsan similarly pursues a uniquely idiosyncratic vision of black metal. Here, between one new track and a cult cover of Manitú's "Cruel Creator," SPITE travel fleetly through the dungeons with a shimmering, haunting sort of glory. Drawing together the totality of this release is an eerie, mood-setting intro courtesy of POSSESSION.
In these days of haphazard, poorly-matched "split" releases, POSSESSION and SPITE conjure forth the format's original magick with Passio Christi Part I / (Beyond the) Witch's Spell!
MORE INFO:
www.facebook.com/hisbestdeceit
www.facebook.com/spitedesecration
www.invictusproductions.net
www.facebook.com/InvictusProductions
www.ironbonehead.de
www.facebook.com/IronBoneheadProductions
Read More News
Tags:
Possession, Spite, New Album, New Release, HEAVY METAL



Teddy

October 30, 2019


More News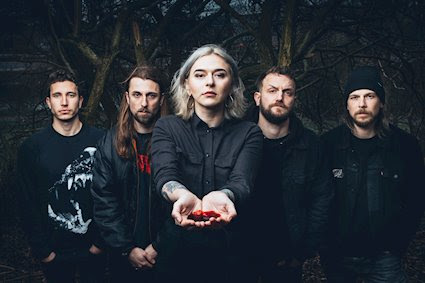 ENOM PRISON to release their newest album titled, "Primeval" On October 9th via Prosthetic Records!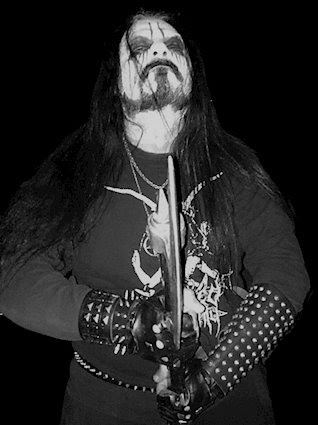 Hailing from Greece, SAD is set to release their newest album, "Misty Breath of Ancient Forests", via PURITY THROUGH FIRE!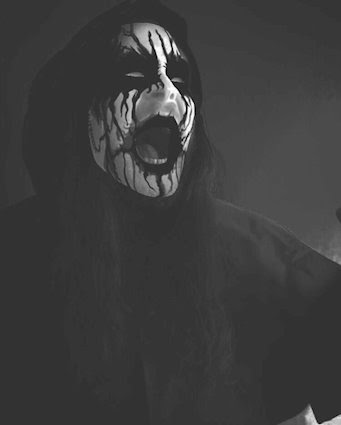 CALIGARI RECORDS to KYRIOS' striking debut EP, "Saturnal Chambers", on cassette tape format!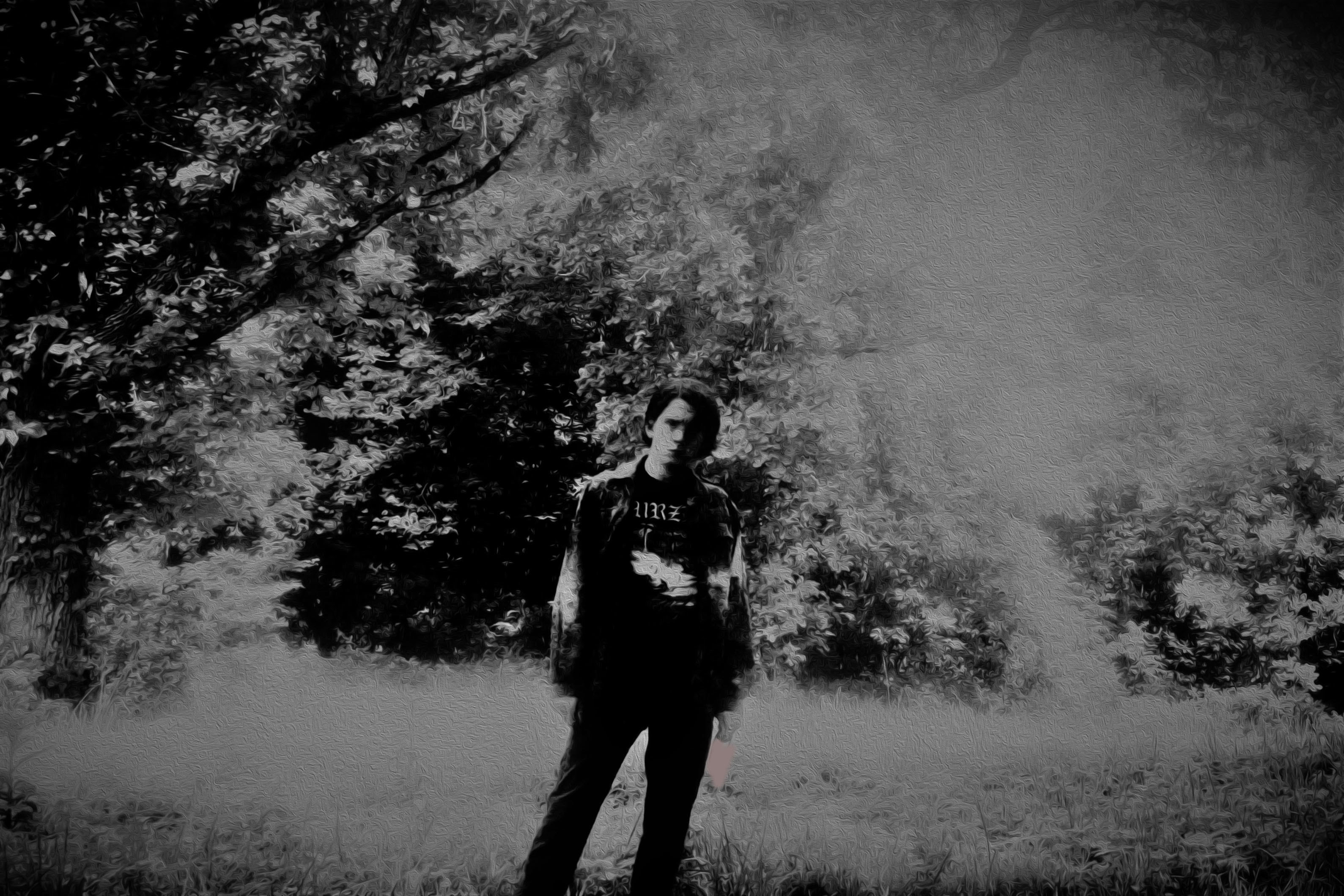 Listen to Mørk Hest's recently released EP, "Unsound Despair" in its entirety here!
TARJA ANNOUNCES REISSUE OF FROM SPIRITS AND GHOSTS (SCORE FOR A DARK CHRISTMAS)