Saxon Crushes the Delmar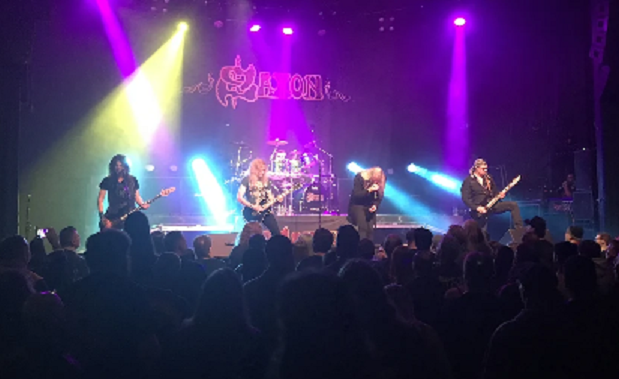 After a concert dry spell that lasted the entire winter season, the silence was finally broken on the night of April 4th. Even though it is the only concert I have seen so far this year, I am confident that by the time New Year's Day hits the calendar, this particular show will still hold the title of my favorite show of 2018. That concert was a Saxon headlining show at the Delmar Hall in St. Louis, MO with Black Star Riders. Yeah, seeing them on another date with Priest was an option, but a Saxon headlining show was too exciting for me to resist.
Black Star Riders - Legendary Thin Lizzy guitarist Scott Gorham's new band can certainly be recognized as his work, but is by no means a Thin Lizzy rehash. Their style is more rock than metal, and even with hints of alternative music, it's still enjoyable. The band limited themselves to two Thin Lizzy covers, namely the obvious hits "Jailbreak" and "The Boys Are Back in Town". Bassist Robbie Crane did the most headbanging of anybody, and vocalist Ricky Warwick might carry the mic stand with both hands, but the guitarists didn't move around as much. My one complaint about the whole show was that the audience seemed pretty dead during most of their set, and they deserved more attention and praise than they got, at least at the start of their set. They applauded after the songs, and Warwick was able to get the audience to chant along with a melody or two, but people mostly just watched them during their performance. Their 45-60 minute set consisted of memorable songs like "Soldierstown", "Finest Hour", "All Hell Breaks Loose", etc. They closed with "Bound For Glory", making an ambitious prediction about the band's future.
Saxon - The band made a crushing entrance with two mighty heavy opening cuts, "Thunderbolt" and "Sacrifice". They set up a rostrum on the stage, enabling drummer Nigel Glockler to be seen from a high spot, while other members could climb up and down as they pleased. This was another performance where the bassist had the most energetic stage moves, followed by the vocalist, but the guitarists preferred to just play the songs without many crazy movements. Paul Quinn did point his guitar headstock at the audience during the intro to "Dallas 1 PM", but aside from that, there was more focus on execution than mobility. Bassist Nibbs Carter has a stage presence that closely mirrors that of Anthrax bassist Frank Bello, constantly running all over the stage like a mouse, headbanging, and always making time to chime in with backing vocals. "Predator" was mostly performed without the death metal growls heard on the studio version, offering a different take on the song. Carter did put his cookie monster chops to the test during the last verse, which seemed to amuse Byford. They played every last '80s staple that you would expect to hear at a Saxon show, and they also played half of "Thunderbolt". It was exciting to see them treat their newest album as if it was their career milestone. Biff's other promotional tactic was telling the audience, "If you don't have it, buy it tomorrow. No excuses, only money. Steal it if you have to, we don't give a s**t." He teased the audience by telling them that they weren't ready for "Heavy Metal Thunder" early in the set, but that perhaps they were ready for "The Power and the Glory". Biff also took notice of an 11-year-old boy in the audience who clearly did have an appetite for heavy metal thunder, stating that his dad was a great guy for bringing him to the show, and stressing the importance of education. Biff never joked or rambled for too long, though, making the songs the highest priority. Luckily, the audience came to life more during their set, but even if they hadn't, you'd still have to commend the turnout. The band's vigorous performance lasted an hour and a half, yet it felt considerably longer. It was the kind of show that you did not want to end.
Thunderbolt
Sacrifice
Motorcycle Man
The Power and the Glory
Strong Arm of the Law
Nosferatu
Battering Ram
Sniper
Predator
Dallas 1 PM
They Played Rock N' Roll
Never Surrender
Princess of the Night
And the Bands Played On
Crusader
Denim and Leather
The Secret of Flight
747 (Strangers in the Night)
Wheels of Steel
Heavy Metal Thunder
Byford concluded by thanking the audience, promising more touring of the States to promote "Thunderbolt", and something special next year to commemorate the band's 40th anniversary. Biff's word left fans with hope for more great accomplishments from the band, and the 200 people or so in the crowd gave hope for many great metal shows in the coming years at one of St. Louis's newest concert venues.
Read More News
Tags:
Saxon, Black Star Riders, St. Louis, Thunderbolt, Biff Byford



Nick Statudo

April 19, 2018


More News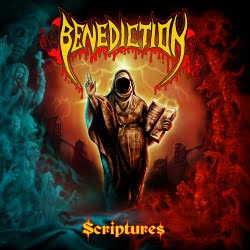 Benediction to release their newest album titled, "Scriptures" next week!
Louisiana's ROMASA to release their new album "Insufferable Cave of Rotting Aspiration" EP this month via Hand Of Death Records!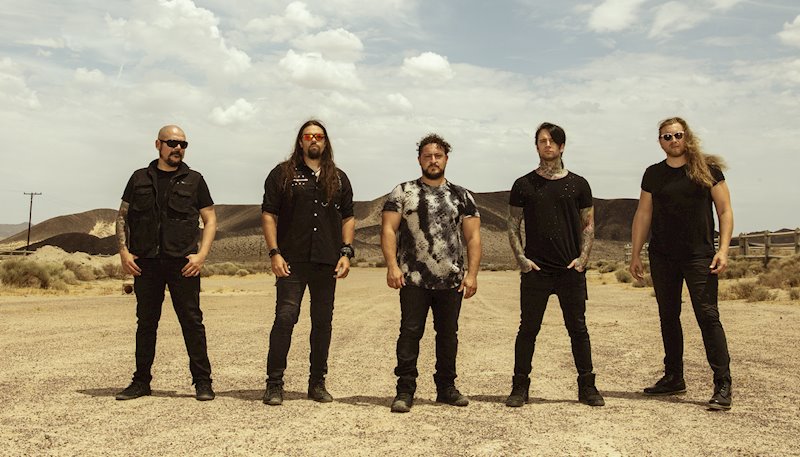 Zero Theorem Launch New Song "Translucent" With Epic Sci-Fi Inspired Video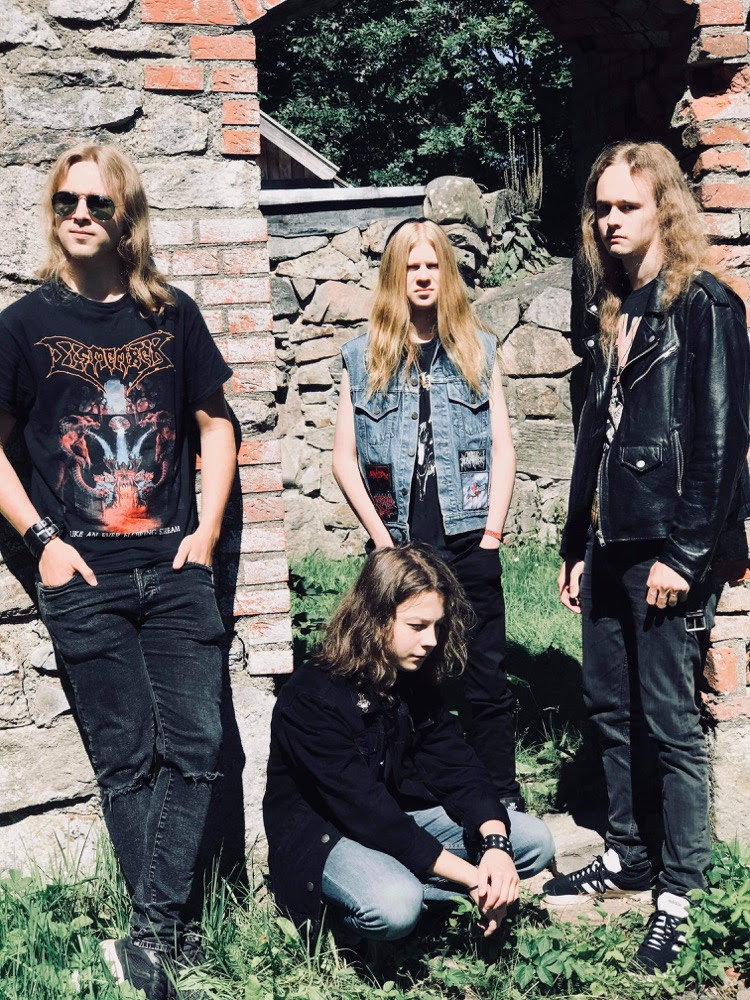 SARCATOR premiere new track at "Deaf Forever' magazine's website - featuring the son of THE CROWN's Marko Tervonen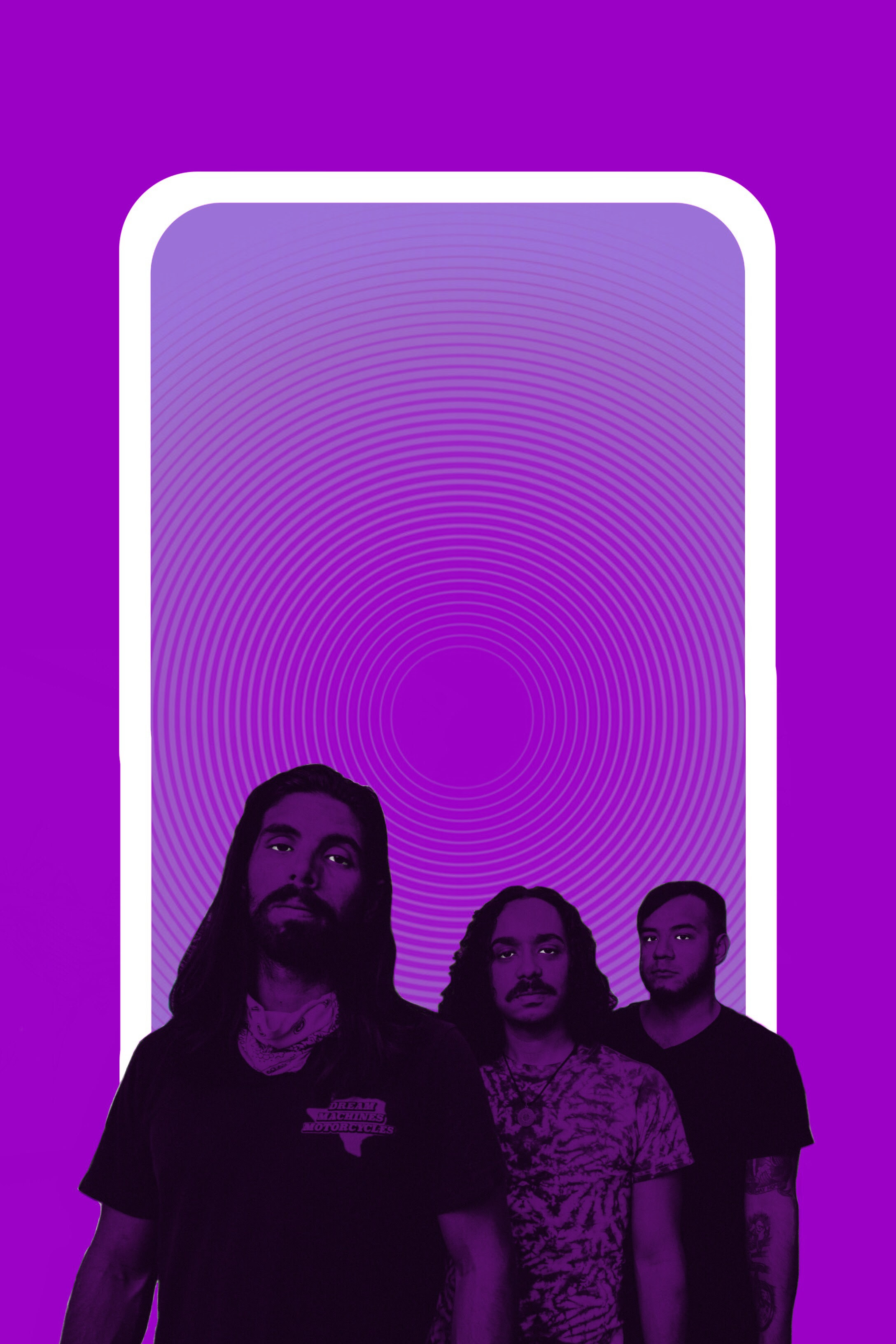 HOLY DEATH TRIO RELEASE NEW SINGLE "BAD VIBRATIONS"