OSYRON'S "KINGSBANE" FULL ALBUM REVIEW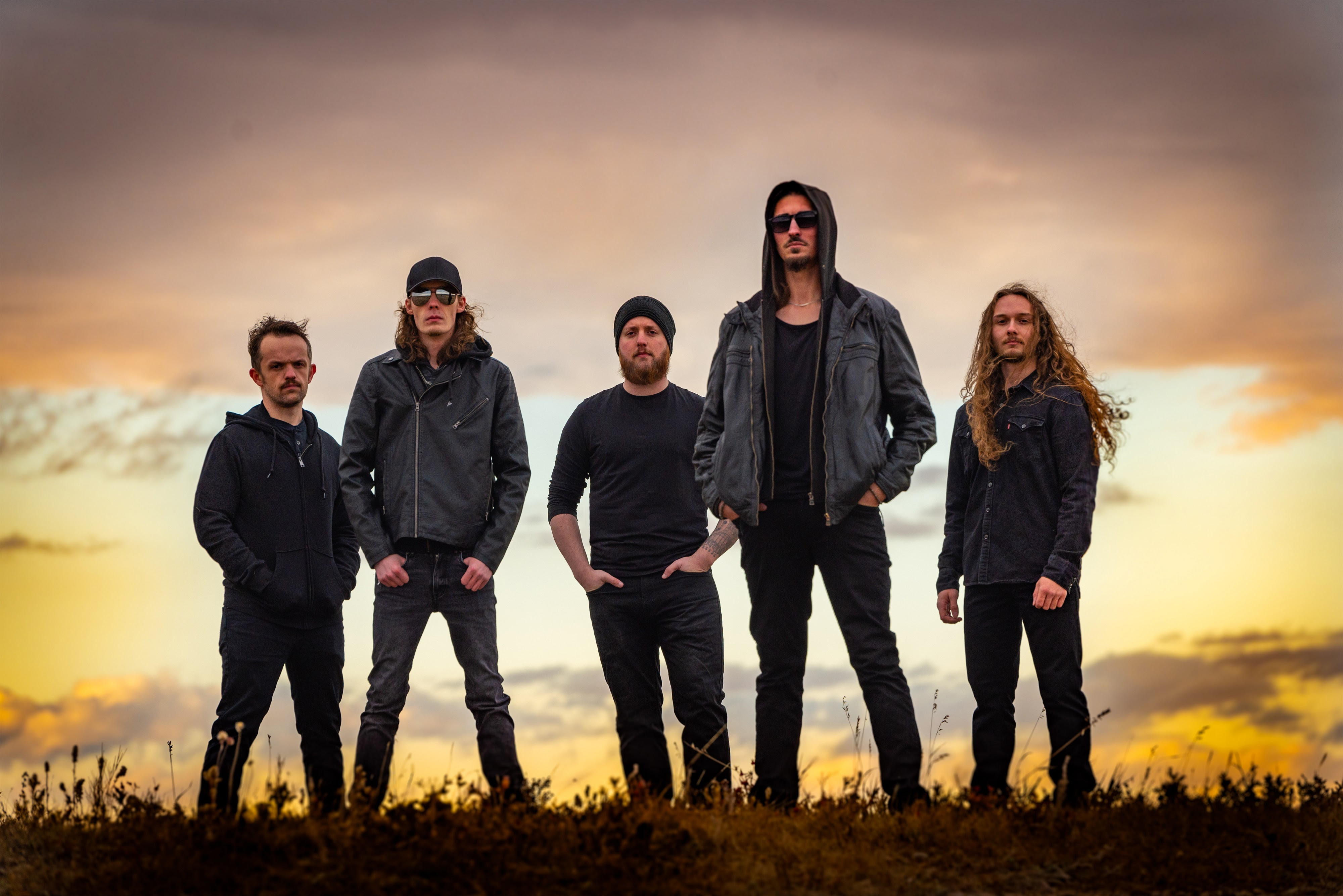 Hailing from Calgary in Alberta, Osyron is a symphonic metal band that consist of vocalist Reed Alton, guitarists Krzysztof Stalmach and Bobby Harley, bassist Tyler Corbett, and drummer Trevor Cobb. These guys bridge the gap between traditional European metal and the music of their region. Osyron is making a name for themselves and have a sound all their own.
The band's origins can be traced back to Ontario, where they began under the name Morbid Theory. They released their first demo 'Chaos Breed' in 2006 and performed alongside acts including: Norther, Protest the Hero, Threat Signal, and The Agonist. They recorded a follow-up demo 'Harbinger' and released it in 2010.
After that release, the band underwent some changes in membership, scenery, and identity. Moving to Alberta in 2012, the group, now rechristened Osyron, re-recorded 'Harbinger' in Calgary, and released the album in 2013. The momentum which followed was swift, as 'Harbinger' caught the attention of the European metal community - proving a favorite of audiences, critics, and radio programmers.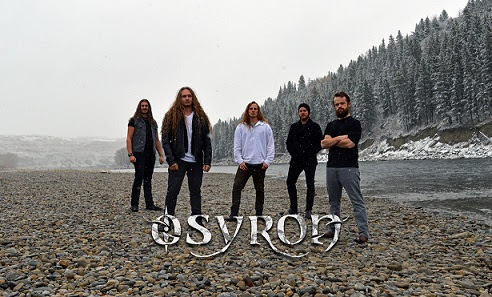 "When a reluctant hero is forced to take up arms against the tyranny of a powerful oppressor, he must summon every ounce of will and strength to overcome the obstacles before him. A great battle lies ahead; the time has come for Kingsbane!" -Osyron on Oct 18, 2017 via Facebook.
This is the general theme of their sophomore effort, "Kingsbane", which is scheduled for release November 7th, 2017. I have been very privileged to listen to this album for about a week now and must say that it is a stunning demonstration of metal majesty. I love theme oriented records because of the presence of narrative that directly shapes the tone and direction of the work. I further have taken a strong interest in this particular record in that I appreciate how these men pulled it off beautifully in the long standing tradition of European Heavy Metal. The Music itself is a fantastic interpretation of a saga that has shaped the way each song is written and performed. Without any doubts I can tell you that everyone in this band poured every bit of their heart and soul into this album.
The beginning "From Ashes" is a two minute instrumentation played on a synthesizer that leads right into the anthem "To War". This song jumps right in with well-timed double kicks and pounding guitars of an upbeat fury. The harmonies coming off the guitars prove that Krzysztof and Bobby are seasoned in this metal game and the tightness between them and the rhythm section is absolutely crisp and crushing. The instrumentation was mixed so well that it doesn't eat up the guitars. This is where the plot begins. The lyrics speak of an inherited burden of a kingdom as a son's only hope is the loyalty of his kinsmen. I might be a bit off here but fuck it. I like it and I don't intend on spoiling the narrative. Reed's vocals are absolutely amazing and reminiscent of early Fate's Warning and Queensryche. This is so refreshing to hear coming out of a brand new metal record.
"Razor's Wind" paints imagery of armed soldiers sailing on to battle. This is more true to form metal than any other symphonic laden wall of sound. The narrative fits the music perfectly. Later on the track conjures images of disaster and armed men rowing on to battle for the honor and safety of their people.
One of my favorite songs on this album is "Viper Queen" there is a progressive and tricky character to the main riff during the verse. Nothing was spared in the final mixing of this record. I can hear every single instrument and it's an incredible thing for the ears to behold. This is heavy metal done extremely well. The changes during the solo take on you a nice journey within the song that give both Krysztof and Bobby opportunity to show off their shit. Further I've gotten so lost in this fantastic performance that I have lost touch with the story. But that's OK. There's nothing like a fantastic metal album that has something to discover for another listing.
The presence of tension that I can hear in Griefmaker gives me a good indication that the story is arching. This song has about the same consistency of "Viper Queen". The lyrics seem to make this song an anthem like tribute to the sacrifice of this young King's men?
Acoustic Guitars greet the song, 'Kingsbane', with beautiful instrumentation and then the band burst into solemn metal glory. The burden of power is weighing heavily on the King but there is no giving up. There is sweet sadness accompanied with fierce determination. The harmonies coming off the guitars are breath taking.
"Empire of Dust" is a full frontal metal assault. This is what you want to hear when you're on your way to kick somebody's ass. The melody played on the guitars and the instrumentation that has the very distinct sound that is common in northern European folk music. This evolves into a double bass metal fury just does not let up. It's get bigger! This one is epic beyond words.
The final song, Kingmaker, brings everything into a victorious conclusion. The time and key changes are woven together perfectly. The arrangements and instrumentation on all of these song render this album so much life. It's anthem after anthem woven into a fantastic saga that I think is one of the most important metal albums to come out this year. The bass player, Tyler Corbett, consistently stayed in the pocket and accented the back beat of Trevor Cobb with a craftsmanship that is not common in many albums of today's metal. This is -truly an amazing record and it has been a real treat for me write about it.
Surprises like this are why Heavy Metal has been such an enduring part of my life.
-Brian Biggerstaff, The Gauntlet
Get your copy right
HERE!
Track List:
From Ashes
To War
Razor's Wind
Viper Queen
Griefmaker
Kingsbane
Empire of Dust
Kingmaker
OSYRON is:
Reed (vocals)
Krzysztof Stalmach (guitar)
Bobby Harley (guitar)
Tyler Corbett (bass)
Trevor Cobb (drums)
Follow OSYRON through these sites :
Band Website:
HERE!
Facebook:
HERE!
YouTube:
HERE!
Twitter:
HERE!
Instagram:
HERE!
Bandcamp:
HERE!
Read More News
Tags:
Osyron, Kingsbane, Venom Queen, To War, Iron Maiden



Red Baron

November 07, 2017


More News

Read about Darker Half and their newest album, If You Only Knew

Deleo's "Mythomania" to be released June 19th!

Secret Bad Boy release a slow-jam for nihilists: It Was Always Too Late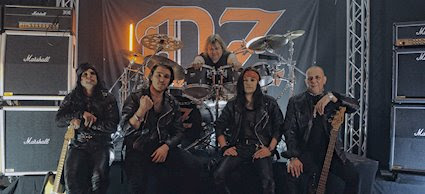 Oz has returned with their new album "Forced Commandments" after 2 years!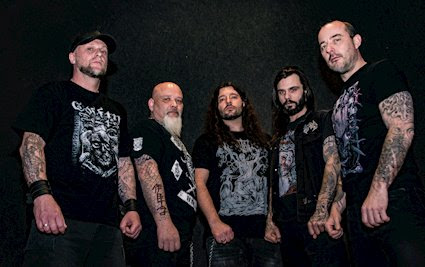 Sinister to release their new album "Deformation Of The Holy Realm" later this month