GRAVEN IMAGE REISSUE CLASSIC EP "PEOPLE IN HELL WANT ICE WATER!"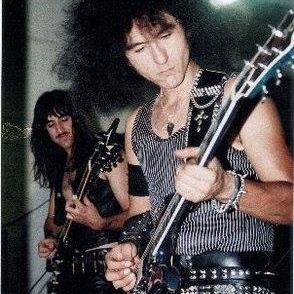 (New York, NY) - Los Angeles-based iconic heavy metal band Graven Image have just reissued their masterful original, PEOPLE IN HELL WANT ICE WATER!, a two-song EP, on classic vinyl. The EP includes legendary tracks "No Rest For The Wicked" and "Warn The Children." Graven Image lead guitarist and founder Rob Griffin explains, "Metal never dies. Our first EP reached collectible status shortly after its original release in 1984. We brought back our classic EP on vinyl as a tribute to our fans, to give them the music they are still looking for 30 years later." Click here to access the vinyl EP cover. The vinyl is now available via Rockhaus Records and can be purchased for $10.99 at Rockhaus Records HERE!

The brainchild of Rob Griffin, Graven Image was formed in 1983 during the metal revolution in Los Angeles. The EP, PEOPLE IN HELL WANT ICE WATER!, was first released by Rockhaus Records in 1984, with only 200 copies pressed. Coveted original copies of the record have sold for upwards of $1,000. Graven Image, including original members Rob Griffin and Joel Mester, are working on new material and plan to be back in the studio in early 2018. "We wanted to give something back to the fans that have supported us throughout the years," continues Griffin. "This EP is just the start. Crank it up. We've started making music again."

For more information, please visit: HERE!
More Tour Dates
Tags:
GRAVEN IMAGE, PEOPLE IN HELL WANT ICE WATER!, Heavy Metal, Los Angeles
Follow us on Twitter
|
Like Us
Date: Oct 13, 2017
As Reported by:
Red Baron