STRIKER Premiere Video "Former Glory"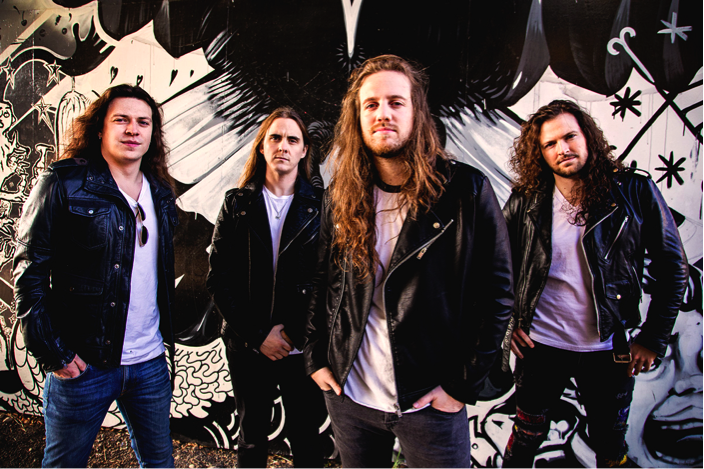 Edmonton shredders STRIKER have riding quite the bullet train this year in support of their latest self-titled album released this past February via their indie label Record Breaking Records. Touring Europe with Sonata Arctica plus performing on 70,000 Tons of Metal along with an award win (Edmonton Music Award) and a nomination for a Western Canadian Music Award for "Metal / Hard Rock Artist of Year", there's no stopping these Canadian metal titans.
Currently on tour with Dark Tranquillity and Warbringer in North America (dates listed below), this power quartet have unleashed their new music video "Former Glory" exclusively premiered on MetalInsider.net. The video captures the classic heavy metal of past and showcases STRIKER bringing it to the forefront of present day headbanging.
Watch "Former Glory" right here.
STRIKER's self-titled album features 9 shredding tracks that are all killer and no filler to continue the band's classic mix of heavy metal to follow 2016's highly praised "Stand In The Fire". The album was self-recorded by the band (Dan Clearly (vocals), Tim Brown (lead/rhythm guitars), William Wallace (bass), Adam Brown (drums) plus help from Randy Black (Primal Fear, Bif Naked, Annihilator) who filled in on drums while Adam was away during recording) along with mixing done by genius Frederik Nordstrom (Bring Me The Horizon, In Flames, Opeth).
CD and digital download available on
iTunes,
Amazon,
Spotify
and
CD Baby.
Track Listing:
1. Former Glory (3:59)
2. Pass Me By (3:33)
3. Born To Lose (3:58)
4. Cheating Death (0:53)
5. Shadows In The Light (3:29)
6. Rock The Night (4:30)
7. Over The Top (4:38)
8. Freedom's Call (4:30)
9. Curse of The Dead (3:49)
Album Length: 33:23
Tickets available
HERE!
Sept 8 - Tampa, FL - Orpheum (Cancelled due to Hurricane Irma)
Sept 9 - Jacksonville, FL - 1904 Music Hall (Cancelled due to Hurricane Irma)
Sept 10 - Charlotte, NC - The Underground
Sept 11 - Durham, NC - Motorco
Sept 12 - Atlanta, GA - The Masquerade
Sept 13 - Halethorpe, MD - Fish Head Cantina
Sept 14 - Poughkeepsie, NY - The Chance
Sept 15 - New York, NY - The Gramercy Theatre
Sept 16 - Worcester, MA - The Palladium
Sept 17 - Montreal, QC - FouFounes
Sept 18 - Toronto, ON - MOD Club
Sept 19 - Westland, MI - Token Lounge
Sept 20 - Joliet, IL - The Forge
Sept 21 - Sioux Falls, SD - Icon Lounge
Sept 22 - Minneapolis, MN - The Cabooze
Sept 23 - Winnipeg, MB - Park Theatre
Sept 24 - Regina, SK - The Exchange
Sept 25 - Calgary, AB - Dickens
Sept 26 - Edmonton, AB - The Starlite Room
Sept 28 - Vancouver, BC - Rickshaw Theater
Sept 29 - Seattle, WA - El Corazon
Sept 30 - Portland, OR - Hawthorne Theatre
Oct 1 - San Francisco, CA - Slim's
Oct 2 - West Hollywood, CA - Whiskey a Go Go
Oct 3 - San Diego, CA - Brick by Brick
Oct 4 - Tempe, AZ - Club Red
Oct 5 - El Paso, TX - Tricky Falls
Oct 6 - San Antonio, TX - Fitzgeralds
Oct 7 - Dallas, TX - Trees
For More Info:
Striker:
HERE!
Facebook:
HERE!
Twitter:
HERE!
Instagram:
HERE!
About:
Striker is an Edmonton-based recording and performing heavy metal band that has grown immensely through their years in the industry. A classic mix of heavy metal, hard rock, and 80's hair metal, their music features powerful, clean vocals, catchy choruses, vocal harmonies, and impressive guitar leads.
Audiences are often floored by the energy of their live show, and their recorded material has been met with fantastic response by both fans and industry across the world. Striker has toured across dozens of countries as headliners as well as support for major metal acts. Gearing up for the release of their latest album the sky's the limit for these Canadians!!
"Striker gush with so much enthusiasm here, with explosive riffs swirling between the vibrant harmonies and choruses, that it's hard not to notice...Tracks like "Former Glory" and "Born to Lose" are anthemic, catchy as hell and feature soaring vocals from Dan Cleary and terrific guitar work by Tim Brown...On Striker, the band take a host of influences and hone them into a sound they can call their own." - Exclaim!
"From the first storm-summoning power chord on the opener Former Glory, Striker (CAN) proves their new album's initial claim of not dwelling on the past, a high and appropriate cry of "Yeah, I'm back again!"... If you haven't witnessed this inspiring resurrection of classic metal, the band plays Friday, April 14 at Starlite with Ravenous and Tylor Dory Trio, no doubt sharpened from the faithful overseas audiences." - Edmonton Journal
"When a band releases an eponymous album it's a statement of intent, a sign of confidence, everything being as it should be. For make no mistake, Striker are a special band. As the old Metal Gods ascend to Valhalla, new gods will arise. This is Striker's fifth album and it's just timeless. Not retro, not looking back, but taking everything that's uplifting and glorious about heavy metal into 2017 and beyond...this album has to be in every writer and fan's top ten at the end of 2017." - Hellbound
"A less balls out, more aggressive record than its predecessor, STRIKER delivers another impressive collection of high energy headbangers....Regardless of what your heavy metal predilections may be, STRIKER offers something for everyone. Super catchy tunes dripping with shred gymnastics and all around technical prowess, Striker deserves a place on any metal fan's playlist....If you have not experienced Striker yet, this album is a worthy place to start and should appeal to a wide range of fans, particularly followers of the Priest, Anthrax and Maiden." - Metal Rules
Read More News
Tags:
Striker, Former Glory, Heavy Metal, Iron Maiden, Judas Priest



Red Baron

September 11, 2017


More News

Read about Darker Half and their newest album, If You Only Knew

Deleo's "Mythomania" to be released June 19th!

Secret Bad Boy release a slow-jam for nihilists: It Was Always Too Late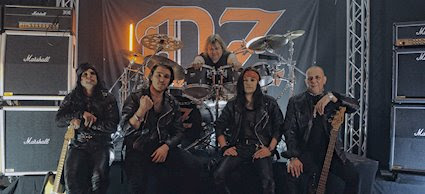 Oz has returned with their new album "Forced Commandments" after 2 years!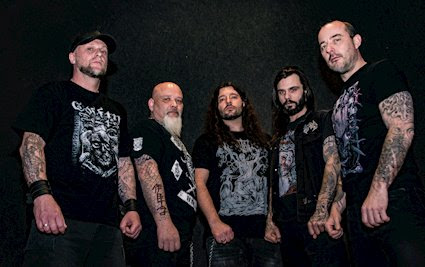 Sinister to release their new album "Deformation Of The Holy Realm" later this month