Slipknot Interviews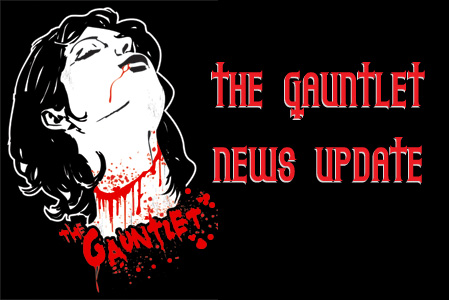 HEY SHAWN, WHAT ARE YOU DOING?
I'm just making some Black Dot music, trying to stay out of the cold and trying to be positive in a new day of life.

THERE YOU GO, IT IS PRETTY COLD OUTSIDE.
Yes it is, where are you from?

I'M IN CALIFORNIA, I KNOW PEOPLE ALWAYS SAY "OH POOR BABY!" BUT IT IS STILL PRETTY COLD.
I know, I understand, but I'm dealing with three feet of snow. It's pretty nasty.

WHAT WAS THE INSPIRATION THAT SPARKED THE IDEA TO START THE BAND THE BLACK DOTS OF DEATH?
Well basically to make a long story short, I started this enigma known as Slipknot way over twelve years ago. It was based off an inner anger and a search for salvation through the beauty of music. Through that search of looking for salvation, I tried to do a couple bands that were based off of different feelings in my life, which were things like growing up in the 70's, listening to the Beatles, the Doors, Jimi Hendrix, Rod Stewart and that kind of stuff. I was on the road when I was thirty and I'm forty-one right now. When I was getting around thirty-nine years old, I lost both of my parents. I lost my dad when I was out on the road with Slipknot, which ended up being one of the worst nightmares. I was always scared that I was going to be on the road when I would lose my parents and it actually happened. Then I was out on the road again years later in the same city and got a phone call that my mom was going to pass. I had to get on a plane and come back to Iowa, I spent four days with mom and then she passed. My mind was really racing because I'm an only child. I started really kind of reversing into where I come from and what I am. I started becoming aware that anger is just part of me; it's why I play drums to begin with. My parents chose a musical instrument for me over drugs that the doctors wanted to put me on for an outlet of getting anger out. I grew up in a pretty complex life due to circumstances in our family. I kind of lived in my own imagination, so I play drums as a release to get out this inner anger that I was building up. Turning forty, I did an art show and neither one of my parents had come to it and saw my life's work, which had paintings, photography and some welded stuff that I had made. Unfortunately, last year in 2010 I lost my first best friend. I have several best friends and Paul Grey the bassist for Slipknot was one of my best friends obviously. I tragically lost him and that triggered me into really putting life together and realizing that life is random, life is unforgiving and life is also just life. I've been working on Black Dot for about a year, but I wanted it to be perfect because I was still exercising the right to understand exactly what I wanted to do. What I wanted to do was really get out what I needed to say and what I needed to be because the music that I want to intertwine together is the outlet of inspiration that I want. I don't want to leave anything behind. As of recently, a very close friend of mine suffered something life threatening. He fortunately lived and when I had a chance to talk to him after he was recovering a little bit, one of the things that he said to me was that one of the things he had learned by what had happened to him was that he realized that if there is something to do today, he is going to do it today. That is kind of where I have been with my mid-life crisis, re-entertaining my life as a child and going back thinking about growing up around art and this anger thing. Anger is energy, anger is a gift and anger is a part of the human condition. I would never perpetrate to make music and I would never try to do anything close to what I've already done with Slipknot. I would never do that and that's why it's taking me over a decade of my life to be able to concentrate on getting back to the movement of anger and dangerous thinking. I've evolved whereas ten years ago it was way more physical and way more injury oriented to achieve the salvation. In some ways I think it was very adolescent, even though I was thirty years old, I felt like I was nineteen. I was really physically, spiritually and mentally, but really physically getting out the pain in my life to achieve salvation. I think over a decade of time I have really achieved an inner peace and I know my place in that band. I know my place in the world because of that band. Now that I'm forty-one, I'm dealing with this mid-life crisis crap that they talk about. I've lost both of my parents, I've lost my first best friend, I'm left with all these thoughts, I'm left with all these feelings and it's disturbing and it's hard. Black Dots came right around the time when I was in my forties. I wanted it to be perfect, I wanted it to be exactly right and I want to make sure everything that I want to do with this band is done. Whether it is playing to projection, painting the back drops myself or doing everything that I've wanted to do that I can do. With Slipknot, we have a saying "the pieces are only as good as the whole and the whole is what everyone loves." This is the thought process of what I think; you are also going to get to hear the thought process of the other gentlemen in the band as well. I'm not taking it away from them at all because they all have something to say and something to offer. I'm just speaking for me because I can't speak for them.

WHO ARE THE OTHER BAND MEMBERS?
I knew you were going to ask that question. The release has been pushed back from March 1st to March 29th, due to getting things perfect. One of the things we have going on is we have a fantastic website that is being built. It is probably one of my favorite things artistically that I have ever done. Seven days before the record is going to come out, a different portion of the site will unlock everyday until March 29th. At that point you will be able to have all of the parts unveiled to you. That way you will find out more about who, what, when, where and why. We are leaving it that way because in this band I'm only doing what I want, such as when we play live, I'm not going to have bands open up and I'm not going to have bands play after me. If we get asked to go out on a tour, then that's one thing, but when we are doing our own shows, we are going to do our own show even if it means me renting out a hall. I'm going to project this art the way it needs to be projected. I'm not going to project it the way people want it to be, I've done that and that's not what this art is. This art is very precise, it's very dangerous and it's very dangerous thinking. I'm leaving it all a mystery until the album comes out and that's when everyone can look at it, dissect it and become one with it. They can decide whether it's going to be part of their life or not. Half of the world is going to love it and half of the world is going to hate it. There is nothing that anybody can do about that. I concentrate on the percentage of the people that are going to love it. I think the people that are going to love it are going to appreciate that from this day until the release that they have to wait and have something to look forward to in this business that is failing. I'm trying to give them something to look forward to. Everyday that they wake up is another day that they can go "This is when I can buy this freakin record that I've been waiting for." That's what it was like when I was a kid. I would wait and wait. I remember the last band that I stood in line for was Rage Against the Machine. The album was called Evil Empire. That is the last time that I stood outside in a line of people waiting at a mom and pop store hoping to be able to purchase a copy of the disc because they only had so many. Those days just don't happen anymore because everything is on the internet, everything is right now and they have an unlimited supply of downloads. I'm trying to bring it back to where it is a necessity to need art.

I WAS READING WHAT WAS WRITTEN ON THE FACEBOOK PAGE. IN A VERY DESCRIPTIVE WAY, YOU STATED THINGS LIKE HOW EVERYTHING IN OUR LIVES IS CREATED OR TOUCHED BY A COMPUTER AND HOW MUSIC IS LACKING SOUL, EMOTION AND CREATIVITY. I FELT LIKE THAT WAS WHY YOU WROTE THIS ALBUM. I FELT LIKE YOU WANTED TO CREATE SOMETHING DIFFERENT.
I definitely want to create something different. You have to kind of read in between the lines of that. I've had to deal with computers and I've had to deal with email. For example, if I have a left and right channel for a song and I want to send it to my friend at a studio I separate the two tracks. I give him channel left and I give him channel right. That way he has maximum loudness. Instead of giving him a balanced stereo track that is interlaced, I'll give him the right channel by it self and the left channel by itself giving him a little bit more beef. If I put those in a folder in a yousendit file, yousendit will compress it and send it to him. He will get it, open it and it will be uncompressed, but there's still compression being done to something that is already on the computer that is digital to begin with. This is what I have to deal with. I don't fucking care anymore. I'm doing songs over the internet. I'm sending my riffs through emails. People are writing to it and sending it back. We are just rolling with it and we are not trying to abide by any rules. Studios are too expensive, they are closing down and they need too much money because they have too much money in them. While in the newest band that I was in for a couple years, I spent around $3000 to record the album on tape. I recorded the drums to 2" tape, I recorded the bass and the keys. I didn't record the vocals or the guitar to tape, but I did get three instruments to 2" tape and it cost me almost $3000 just to do that. I had to buy that because no label in their right mind was going to be like "Screw that, why don't you record it directly to Pro Tools?" Well Pro Tools is somebody's idea of what analog sounds like. They put somebody in a room, give them a budget and say you have this much time because this is the price break. You have to come as close to the idea of what analog is in this time frame and get it done. Analog is like film. Film in a camera only sees light and it gets imprinted on a transparent piece of film. Whereas digital is the same thing, it's their idea of what film is and what light is. I'm just going for it, I'm mix and matching everything because this world is confining me to rules that I don't like, so I'm just breaking the rules. I just don't care. I'm not going to make anything perfect because there is nothing perfect. I'm not going to keep following their rules and downloading their patches. I'm just going to mix and match all the junk and makes songs. That will be original all to itself.

YOU ARE AN ARTIST YOURSELF, PLUS YOU'RE ALSO A PHOTOGRAPHER.
Yes, I appreciate that.

DO YOU STILL OWN A LABEL?
It was always confusing because when I was younger I had Big Orange Clown Records and I had kids send me stuff so I could produce. I don't have the money or the financing to ever do a record label. Really what I wanted to do is production. I want to produce and help young bands. I'll go out and find people that I want to work with or that want to work with me and then I'll sign them to my production deal. I represent them, work with them and get their world where their world needs to be. I then go out and try to get them signed through showcases. I help the band kind of fight their way to the top through art the way I learned. We are together against the machine. I know how to work with machines, so we're not really against it. I help the bands learn how to be strong on their desires, wants and needs. I help them achieve what it is that they need to get out of their hearts. It's more of a production kind of thing because I just don't have those kinds of funds.

HOW MANY BANDS ARE YOU WORKING WITH?
I'm an artist first, like you said. I paint, I do photography and I do my own music. That takes up most of my time. When I'm not doing one of those three things, I'm doing Slipknot, which takes up all of my time. I spend the majority of my life doing Slipknot stuff, approving art for merchandising, getting things ready for tour or production and just touching base with the members. It's 99.9% of my life and the other 1% is my own music, my own art and then you have to remember I've been happily, faithfully married for eighteen years. I have four children, two girls and two boys. My oldest girl is nineteen, a boy who is seventeen, a girl who is fourteen and my youngest boy who is seven. I've got my hands pretty full.

I'LL BE SURE TO LET EVERYONE KNOW TO WATCH OUT FOR THE NEW CD AND HOPEFULLY SOME SHOWS COMING SOON.
I do have three priorities. Two of them are more priority than the shows. The first priority is to get everything perfect and the way I want it artistically for the release on March 29th. When the release comes out I'm going to start preparing myself for a June 12th show for Slipknot. Rehearsals will start in May and I'm looking forward to going back out with Slipknot. It's a very different situation, we will be doing a small tour that will be based off of not supporting a new album, we have never done that before. What is so special about it is we are there to celebrate the life of Paul Grey. We will celebrate his love for the band, his love for the fans, his love for the music, our love for him, our love for the fans, our love for the band and our love for music. It will be a grieving process that has needed to come. I'm really going to prepare myself after March 29th to start getting in the mindset that I need to be in for that tour. After March 29th until May we will be doing some shows. I don't know when. It is a priority in my mind, but I'm going to let it happen naturally. I'm not just going to a local bar and say "Hey we're going to open for this band and this band can play after us, and so on" That's all bullshit! If I have to rent my own hall, flyer the city and sell tickets like I used to with Slipknot in the day, that's fine. At least the art will be performed the way I want it to be. This is very precise, dangerous music and dangerous thinking. There is no room for error. I want things to be absolutely perfect for this. Nothing in this world is perfect and I'll probably never achieve perfectness, but at least I can try to make it be what it needs to be. That's what I'm going to do artistically. That's how I get most of what I need out of this world, I try to achieve what it is that I see, feel and want. I try to come as close to it. If I fail or miss out on a couple things, that's alright because at least I tried. Nothing is perfect and nothing is normal in this world. I don't need anything to be normal or perfect.

THANK YOU SO MUCH FOR THE INTERVIEW SHAWN. I REALLY APPRECIATE IT.
Thank you for taking time out of your day to talk to me. I'm always fascinated with people who take the time to talk to me. It's always nice when people are positive and not negative because in my career I've had my good share of both. I feel like this was a very positive conversation. I suggest that everybody goes to the website everyday before the release. There won't be anything like it on the net. It will be very disturbing.
More Tour Dates
Tags:
Slipknot, Black Dots of Death , Shawn "Clown", interviews
Buy Slipknot Merch
|
Follow us on Twitter
|
Like Us
Date: Feb 04, 2011
As Reported by:
Shauna O'Donnell