Slipknot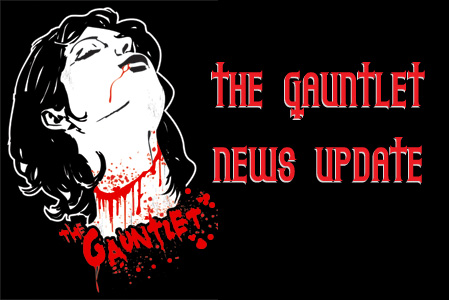 The Gauntlet: How is everything going?

Sid: Going good. I have been practicing as we are getting ready to kick this tour off in August. Just making my backend band work really hard for this solo project I have.

The Gauntlet: Yeah, I was listening to the music and was blown away by some of the depth and raw heaviness in some of the tracks. I was expecting more of the DJ Starscream type stuff.

Sid: Thank you.

The Gauntlet: Is this project a new project or an extension of DJ Starscream?

Sid: No, it is just Sid, like how a solo artist would use their name.

The Gauntlet: So kinda how Madonna or Cher go by one name now?

Sid: [laughs} Yeah, Sid is my name so I figured why not. That is what everyone knows me by. It isn't DJ stuff so I couldn't really say "I am DJ Starscream, come watch me sing."

The Gauntlet: So it is you singing then? I thought it was but wasn't 100% sure as I have never heard you sing.

Sid: Yeah, I sing on it, I rap on it. There are also some guest spots too. The majority of what you hear is me. I wrote all the songs, music, produced, engineered. I had some help from my production team though. The single is produced by myself and A-Rock Impossible.


The Gauntlet: Which song is the single?

Sid: "Nervous Central".

The Gauntlet: That's a good track, more upbeat than some of the others. I really dug "Flat Lace". It is a very somber and emotionally heavy song.

Sid: Oh yeah.

The Gauntlet: I had to listen to that one five or six times and it really moved me.

Sid: I actually wrote that for Paul [Gray] about five or six years ago. Yeah...I don't want to get into it right now. The most I will say is that song was written for Paul.

The Gauntlet: What stage is the album in now?

Sid: I don't have a release date. It is being mixed right now though. Tobias in Sweden did half of the mixing. The other half is being mixed by Ross Robinson. Tobias got his mixes done already. He had another project to get to so he got them done already. It was like mayhem and craziness trying to get this done for him. I needed some of the songs to have an old flavor so I wanted to get Ross involved on some. He has such a unique ear. He is doing the final prints right now. I am just waiting for the final mixes to come down. Next we will move on to packaging, art and meeting with record labels. I will also be playing the Gathering of Juggalos on Aug 14 then doing a tour. We are just starting to get things rolling. Now it is time to get out there and play the shows to make that connection with everyone. It is time to just start rocking.

The Gauntlet: You are still waiting on getting signed before you put the album out though right?

Sid: I am going to try to have it finished so I can release when I tour. If it isn't picked up, I'll make the copies myself and sell it at the show. I will get it out in some form, I don't want to make the fans wait. There isn't really any metal going on though. There is definitely an evilness with a punk rock attitude though.

The Gauntlet: It is heavy though emotionally.

Sid: Yeah, it is big time stuff. It is the weight of the galaxy. "I Can't Save Ya" is a great one. That is a serious song.

The Gauntlet: I felt like it was a new introduction to you.

Sid: I am exposing a lot more of myself. I am writing all the lyrics. My approach to music is not to have people think I am impressive or anything. I am not rapping about possessions and materialism. There is a little of it, but I have a love track and I have thirteen tracks on the album. There is down tempo, up tempo, big production, it has everything. With all these different styles and things and being the sole writer with my true feelings, people will see what kind of person I am or was in the past. I try to bring all those views that are in my life.

The Gauntlet: Is this the first time you've done lyrics in this way?

Sid: I have been a musician since I was really young. I started out playing bass and singing. I played the harmonica when I was really little because my grandfather played . He died before I was born and I was given his old harmonica. It was really cool because I have a piece of him. My grandma would play the keyboard and have me play with her. I played a lot of classical stuff on her keyboard. When I got older I wanted to be in a band. I started to learn how to play bass guitar. I was always either playing bass or singing but I couldn't do both at the same time. It took me a while to figure out what I was going to do because I loved them both. I kept trying to be in a band but never found people who were serious in doing things the way I thought was the correct way of doing things. I knew it would take a lot of work to do it right. From there, I had a few different bass guitars, but they always got stolen or sold for drugs. One time I was out of town and started DJing with a buddy. We got this setup from an old promoter in town. I went out to do a gig somewhere and while I was gone, my ex-girlfriend told my mom it was OK to get my bass so my mom gave it to her. I was like 'Fuck! Again? Fuck it!' I had the turntables so I just started doing the DJ shit constantly. I plugged it into my bass cabinet rig and just blared that shit in the basement. I just started DJing all these gigs and then eventually I came across Slipknot and started doing stuff with them. I came around full circle and started playing bass again and recently bought a piano. The piano just opened me up to a new world. It is a ballroom baby grand. I just began recording and layering tracks with different instruments for the different songs. It is like painting. I can hear all the other instruments as I play. With the piano, the sound and vibrations are so clear and warm. It is like a satellite coming to me from outer space. So now I am in the middle of my Slipknot career and just infatuated with this fucking piano. When I was listening to it back, I was just thinking how awesome it sounded. I have a hip hop b-boy background but the basis for this is modern classical. I know metal and punk too and then I get this piano and it is all just so natural. I sit down and it is all so great just teaching myself. I don't know how to read music. I can't read a lick of music dude! You can play me a note and I can't tell you what it is. I can read some tablature for bass, but I threw that shit away. If I am picking up on something quick enough, sitting down and reading about it is wasted as I could have been just practicing. Now it is easier for me. If I see it done once, I can play it and I never forget. I like the piano because there are no rules to follow. I just do what sounds and feels right to me.

The Gauntlet: That is pretty amazing to hear as listening to your new songs, it sounds like you have been trained.

Sid: Yeah, I just have it all in my head.

The Gauntlet: Maybe you are one of those Japanese kids that you see playing the violin at 3.

Sid: [laughs] I just pick stuff up and want to learn it. My playing and ideas do progress. I keep adding pieces to it. I play things over and over and over and over and over and over and over and over again. Sometimes I'll change the attack and the timing of it. Before long, I'll know every way I can possibly play that one melody.

The Gauntlet: Where you on drugs learning to play the piano?

Sid: No. I am not saying I don't like to have a good time. I like to party socially and hangout or whatever. I am an artist. I do it safely though and I am not doing anything all crazy. I can go out to a campfire and have a beer and have a good time. I don't need to get plowed on everything you can think of to go somewhere. I like port. I like to sit down with a glass of port and feel all warm and shit. Port is for pirates. I don't know though, but there is something about the piano that pulls me out. I can sit around and play. I love feeling the vibration moving through the air. If you are really honed in on it, you can hear all this stuff inside of the notes. You listen closely and you can hear the notes talking.

The Gauntlet: When did you start working on the album?

Sid: I started writing when we were working on Slipknot's Vol. 3.

The Gauntlet: Is it more gratifying to be a solo artist than one of nine?

Sid: For me, there is more satisfaction as far as the music goes. I have a different type of performance and put a lot more into it. In Slipknot, I am a DJ so the amount of stuff I can do is limited. I don't want to scratch through every fucking song, that would be whacked. I need to treat the turntables as part of a song. Now with my stuff, it is a whole different world from that because I wrote everything and I am up front with a band backing me. I have a high guy and shit. Everyone is watching me and listening to every word I am saying. It is totally opposite. Slipknot is the craziest heavy metal band ever and it is quite a different thing. You can hear me on the album playing folk, easy listening, rap, rock, etc. This album has been a long time coming. It is a solo project, but I have a band backing me up.

The Gauntlet: How do you feel fronting the band?

Sid: I don't mind. I sang when I was younger and in highschool bands. I was also in choir at Catholic school but that didn't work out so I went to public school.
More Tour Dates
Tags:
Slipknot , Sid , Slipknot , Sid Wilson , interviews
Buy Slipknot Merch
|
Follow us on Twitter
|
Like Us
Date: Jul 05, 2010
As Reported by:
Jason Fisher