METALLICA Drummer Feels Like His Drumming Skills Have 'Regressed'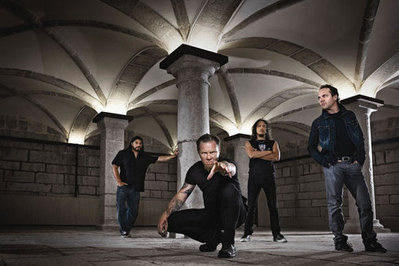 In a recent interview with Drum! magazine, Metallica drummer Lars Ulrich discussed his playing ability, or inability.

Lars Ulrich: "I usually feel like I've regressed. [laughs] I'm like, 'Why can't I do that anymore?' You know, when I heard these songs [from 'Beyond Magnetic'] a couple of months ago, I thought that it sounded really exciting. I thought there was a really good, lively vibe — it's a bunch of guys just playing together, and it sounded really full of energy and spunk and liveliness. And that was kind of the whole thing on the 'Death Magnetic' sessions was to try to keep all that energy as preserved as possible. The one thing I'm really proud of with the 'Death Magnetic' album is just how fucking lively it sounds. How it doesn't sound careful, it doesn't sound stale. It doesn't sound, kind of, too cerebral — it's just physical. It's just lively and full of spunk and full of people that are playing music with each other, in a room, you know? That was kind of what we were going for with 'Lulu'."

You can read the entire interview here.
More Tour Dates
Tags:
Metallica, Lars Ulrich
Buy Metallica Merch
|
Follow us on Twitter
|
Like Us
Date: Jun 27, 2012
As Reported by:
Jason Fisher