Lars Ulrich comments on lone Big 4 show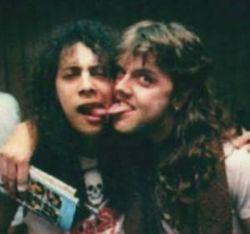 Lars Ulrich commented on the Kevin and Bean radio show yesterday following the announcement that the Big 4 (Metallica, Slayer, Megadeth and Anthrax) will be playing a single U.S. date.

"Let's take baby steps here. We did seven or eight dates last year, we're doing one show in England and one show in France.

Listen, we don't wanna cram this down people's throats., we don't wanna sort of overstay the welcome, and we don't know what kind of response there's gonna be to this in America, so we're starting, obviously, without being disrespectful to the rest of the wonderful country...

We have a history in Southern California, Slayer has a history in Southern California, (Dave) Mustaine has a history in Southern California, so there's a lot of history in California. And we picked the Coachella site where this is going down the week after the Coachella, which is probably - along with Bonnaroo - the favorite festival site to go to in North America.

If there is enough demand for it, obviously there's a very strong possibility that there'll be more shows, but we don't wanna overextend the welcome and we also don't wanna turn it into something that becomes just this whole nostalgia trip. So it's a balancing act, you know."

Listen to Ulrich's appearance on The Kevin & Bean Show here.
More Tour Dates
Tags:
Big 4, Metallica, Lars Ulrich, Slayer, Megadeth
Buy Big 4 Merch
|
Follow us on Twitter
|
Like Us
Date: Jan 26, 2011
As Reported by:
Jason Fisher