Overkill Nile Show Review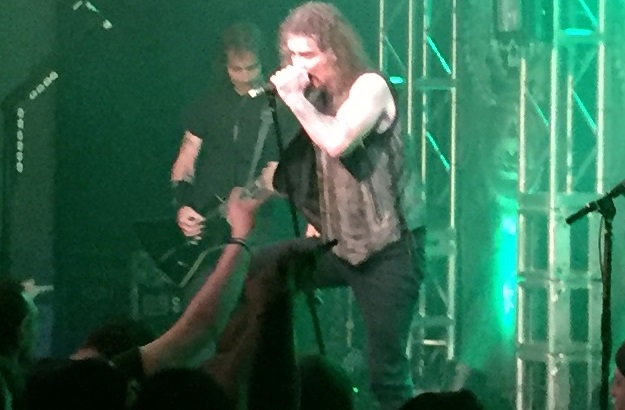 Overkill is a prime example of a band with a reputation for delivering consistently powerful live performances. The energy they give forth and the reactions that ensue in the pit are the stuff of legend, and their fans will always insist that it is an experience that has to be witnessed. In fact, I believe it is something worth doing more than once, even if it involves driving a few hours out of the way. Rather than do another tour with one of their obvious long-time thrash peers, this time they did something a little different by bringing technical death metallers Nile on the road with them.
Amittedly, Nile isn't one of my favorite death metal bands, but what I caught of their set was more entertaining than when I saw them with King Diamond nearly twelve years ago. From watching them, I can say that they are good at what they do. The musicianship is certainly technically adept and full of skilled lead work, and the heaviness is unrelenting. One of the most noticeable things about their stage show was how rapidly the lights flashed different colors throughout their faster moments. Nile fans will be disappointed about the absence of long-time guitarist/vocalist Dallas Toler-Wade. However, they will be remarkably pleased with the accuracy of the replication executed by his new replacement, Brian Kingsland. Whether you love them or hate them, you might have a laugh or be horrified over watching Nile in 2017. You see, only during this tour did it occur to me that guitarist Karl Sanders looks like President Donald Trump with longer hair. Their set ended with "Black Seeds of Vengeance".
Overkill opened with the longest song in the set, "Mean, Green, Killing Machine" with green lighting to correspond with the title. Their lighting, in fact, would typically change from green during one song, to red to the next one, then to blue to the next one. They also typically went back and forth between an old song and a new song, and delighted the audience with a couple of neglected oldies. Like on their tour with Testament four years ago, they left nearly two decades of mid-period material out of the set. Luckily, they played a longer set this time, though. This was certainly the best vocal performance I had ever seen from Bobby "Blitz" Ellsworth, though. His banshee screaming was as satisfying as it is on record, but it's not just his vocals that make him a unique frontman. Blitz narrated with a variety of different hand gestures, even holding his hands like bat wings to reflect their mascot, Charly. He also tended to shy away behind the stage during guitar solos or other instrumental moments, but would always rush back to the stage in time to guide the band and audience through a final verse and/or chorus. Although Blitz made it known that he was in command of the show, he still credited bassist D.D. Verni for being so old-school and for being "the most evil man in the state of Kansas right now". His bandmates are not quite as frenzied onstage, but occasionally walk around to avoid seeming insipid. Drummer Ron Lipnicki hit the skins hard above a backdrop of four skulls, wheels, and lights in correlation with their new release. The band's trademark logo was beautifully displayed above his kit. Guitarist Dave Linsk nicely re-captured the solos of antecedent Overkill guitarists, but did serve up his own lead work on one or two early songs. The set list (roughly in this order):
Mean Green Killing Machine
Rotten to the Core
Electric Rattlesnake
From the Gutter G******
Trouble
Nice Day…For a Funeral
Infectious
Our Finest Hour
Feel the Fire
Hammerhead
The Armorist
Emerald (Thin Lizzy cover)
Ironbound
Elimination
F*** You (The Subhumans cover)
Besides Blitz's outstanding singing, one of the most remarkable things about this show was the turnout. After seeing so many concerts with 40-60 metalheads in the audience, it was refreshing to see a small venue packed with a couple hundred people who were having the time of their lives and applauding after every song. Whether you're a fan of one or both of these bands, I hope that has inspired you to support this tour and bring some friends with you if you haven't already. There could be another city on this tour with a smaller number of attendees, don't let it be yours!
Read More News
Tags:
Overkill, Nile, Mean Green Killing Machine, Bobby Blitz



Nick Statudo

February 26, 2017


More News

Read about Darker Half and their newest album, If You Only Knew

Deleo's "Mythomania" to be released June 19th!

Secret Bad Boy release a slow-jam for nihilists: It Was Always Too Late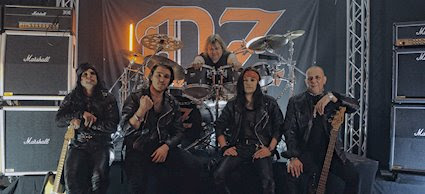 Oz has returned with their new album "Forced Commandments" after 2 years!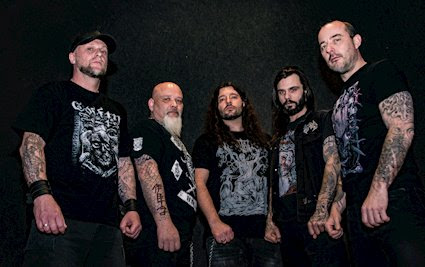 Sinister to release their new album "Deformation Of The Holy Realm" later this month