Dystopic Odes Tour Report With DISKORD and Execration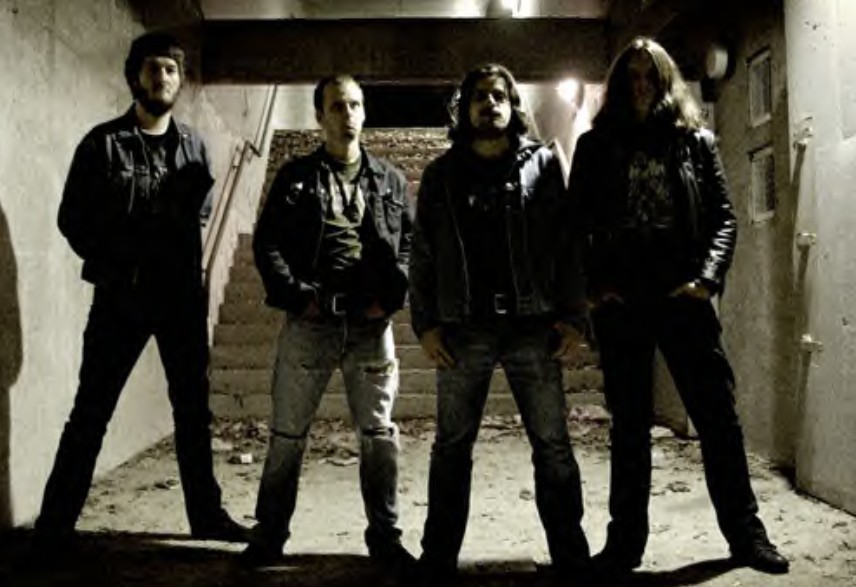 The Dystopic Odes tour brings some of the finest Norwegian death metal acts to the club scenes in Europe: Diskord (NO) and Execration (NO).

Diskord and Execration have recently put out their full-length albums that place them both somewhat off the beaten track of death metal. The albums provide a personal signature to the standard formula of lightning fast 4/4 drumming, growling vocals and vivid imagery. Dystopics by Diskord brings the strangeness to the genre with the skewed riffs and that analogue feeling, while Odes of the Occult by Execration commands the tortured soul of old school metal back to service, but with the contemplated song structures and heavy-as-fuck sludge intermezzos. The reviews of the albums have been very positive in the metal community, and both bands seem to be intensifying their metal assault these days.

Fenriz of Darkthone has previously pointed to these guys in the 'band of the week' thing he's got going – and luckily both bands have continued evolving since. Their latest live shows in Norway have generated a buzz reaching as far as the mainstream newspapers. Beyond the media buzz, these bands readily prove that the Norwegian death metal scene survived the 'true Norwegian black metal' tsumani that hit (and still washes over) this country, and that plenty of bands are exploring other landscapes of the metal genre. They're representing Norwegian export of metal music that makes visible the range of bands active, and the high quality of performance that doesn't come by itself. Both Diskord and Execration has been around for along time, and their tight and decisive live shows hard to argue with.

The current Dystopic Odes tour spans across southern Europe, and they share stage with bands like Possessed, Nasum, and Wormrot along the way. The combination of Diskord and Execration should be a massive concert experience, and I called up the guys to get a tour report.

Christian /Guitar in Execration
Jonas /Bass in Execration
Eivind /Bass in Diskord

METALOATH: Hi, guys, thanks for the chance to check in on the Dystopics tour! How's everything going?

Christian/Execration: It all good over here. Good fun and quite rowdy (laughs)!

METALOATH: Your first gig was in Bologna, Italy last Friday (22.06.2012), how did that go?

Christian/Execration: That was a very good show, we played together with Nasum (SE), there are on their farewell-tour, I think. The venue was this squat house, not that different from the Blitz in Oslo, with big outdoor area packed with crust-people. The stage was set indoors, but with large doors that were opened up to the crowd in the outdoors. I think it was about 500 crust and metal people there, or so, and they're cool people. It was a lot of fun.

METALOATH: So, what the response on the death metal that you're playing?

Christian/Execration: Well, fairly well, I guess. We played a bit early in Bologna as Nasum and Wormrot were the main attractions, but the response was good, actually.

METALOATH: How did this tour come about? Did you arrange the whole thing yourselves, or do you have a booking agency down there?

Christian/Execration: There's this Italian connection, a guy that Hans Erik/Diskord is in contact with. It's a crust-collective, AGIPunk, I think it is called. They have put it all together with the shows and logistics and the whole thing, and they even have organized a bus with a crust-driver and a full backline that takes us around.

Eivind/Diskord: Yes, a bus with a driver and everything, that great!

Christian/Execration: Yesterday, he pulled 650 kilometres on the road in one stretch, so that impressive (laughs).




METALOATH: Have you brought on a lot of merch and stuff on the road as well?

Christian/Execration: Yeah, we brought a lot of stuff. But we somehow managed to forget all the vinyls back in Bologna! All the Odes of the Occult vinyls is gone, man, and that during the first day of the tour! Nice. Beyond that, Eivind/Diskord have lost his passport and I have lost one shoe. So, its going great, you know (laughs).

Eivind/Diskord: Yeah, it was the absolute first thing that happened! My passport gone! That's a flying start of this tour (Laughs). I think I need to drop by the embassy somewhere to fix this if I want to get back home at the end of the tour.

METALOATH: He he, true metal conduct! (laughs). But you still have your instruments, right?

Christian/Execration: Yes, we still got the instruments!

METALOATH: Do get any comments on the Norwegian black metal stuff? Any disappointed metal fans?

Jonas/Execration: No, not to my knowledge. Very little talk about black metal and all that stuff. But there was this gay-like neo-nazi guy in Italy. Not quite sure what he was up to. Among the crowds and musicians, there's little focus on black metal, but sometimes when we're out drinking people might start talking about that. People seem to be more into metal and punk as such, at least in Italy. Perhaps later into the tour, more black metal people will show up, I dunno. Who the fuck knows, right?

metaloath: How do you solve the technical aspect of the tour? You've brought only your instruments and effect pedals, not the whole cabinet?

Jonas/Execration: Yeah, we brought our own instruments, and then we borrow the backline and amps.

metaloath: And the sound turns out ok?

Jonas/Execration: Yeah, it's good – but its very loud. I think they are pushing the volume levels way up for some reason.

metaloath: Do you get time to do proper soundchecks, or just do a quick line check?

Jonas/Execration: Well, in Bologna we just did a line check on stage, so the sound was a bit rowdy, but ok. I guess the challenge of getting a decent sound is part of the learning experience here, we learn to play even with a fucked up sound.

metaloath: Have you brought your own sound engineer?

Jonas/Execration: No, we just use the local guy on the venue, and it is like it is. Sometimes good, sometimes less good. But that guy in Germany, he was way off (laughs).

Eivind/Diskord: Yeah, and the first gig was quite a ghetto, soundwise. The venue was great, and the people as well, but the sound guys struggled. I heard only my own bass on stage, so I just had to play and hope for the best. Mostly, we ended the songs approximately at the same time (laughs). But I don't complain, sometimes the sound is bad, that's how it is, no worries.

metaloath: How long are the sets that you play?

Jonas/Execration: Well, it varies, from 20 minutes up to 40 minutes so far. But I think we're playing longer tonight, perhaps up to an hour.

metaloath: What do you prioritize in the set list? The latest album exclusively, or some of the older stuff as well?

Jonas/Execration: Primarily from the latest album, but adjusted it a bit according to our mood. Added a song here and there when needed. 1 or 2 songs from the Syndicate of Lethargy album, the rest from Odes of the Occult.

metaloath: Do you play that Autopsy-cover that you did a couple of years ago?

Jonas/Execration: We seldom play that song anymore, but I think we'll do that tonight, actually. In The Grip of Winter by Autopsy, that's the song.

metaloath: Have you got in place the two missing slots in the tour schedule (24.06.12 and 29.06.12) yet?

Eivind/Diskord: No, we didn't fill those. Yesterday was a day off, but that was spent driving all day, so it's ok in that sense. We didn't get to Breclav (Chech Republic) until late evening, and we just had a few beers and relaxed before todays show. I think Friday still is open, its looks like a day off then as well.

metaloath: How has the response been on the songs so far?

Eivind/Diskord: I think it's been good, given that most of the crowd don't know the band or heard the songs. The music and drum patterns are sometimes quite strange, so it's hard to just bang your head, but people are into it. It's been good, you know. At our first gig in Bologna, there was to our surprise these crust-fans that seen the gig we did related to the Inferno Festival in Oslo this easter! So when we yelled 'cheers!' from the stage, they answered with 'skaaaal' (INT note: skaaaaal is Norwegian for cheers, pronounced with a booze-ridden voice). They had done their studies of Norwegian in Oslo, as well.

metaloath: Those crust-people are really dedicated, taking the trip across the continent to catch metal gigs and learning language!

Eivind/Diskord: Yeah, the response has been good, I guess there was quite a lot of people attending at Bologna and the mood was great. And then the next day we played Memmingen, Germany, which is a place located in the middle of nowhere. Really, in the middle of a cornfield, or something (laughs). There was this old barn that has been re-cycled into a concert venue – surrounded by a classical 'heavy metal parking' lot where crowd gathered with their cars stacked with beer. It wasn't that many people coming to the show, but it was cool people, so it was fun, you know.

metaloath: So, you're finishing up the tour around Saturday (30.06.2012) back in Milan, Italy. Do you have any goals or plan with this tour? Do you wanna get back on the road?

Eivind/Diskord: Yes, of course we would love to tour again. But also just getting our music out there and spread 'the good news', and that's no small feat. When we have played in Oslo a couple of times, there limited how many new fans one can attract, so it's good to reach out.

metaloath: Well, have a good time for the rest of tour, and thanks for checking in! Hope people get their asses to the shows, and catch you guys live. Cheers!

Diskord:
Official Site

Execration:
Official Site



Dystopics by Diskord: buy here



Odes of the Occult by Execration:
Buy Here


hails,

@metaloath
More Tour Dates
Tags:
Execration , Diskord , interviews , Dystopic Odes Tour
Buy Execration Merch
|
Follow us on Twitter
|
Like Us
Date: Jun 27, 2012
As Reported by:
Metaloath