Butcher Babies Join Megadeth Tour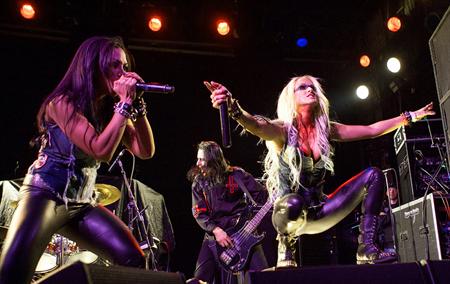 BUTCHER BABIES have announced that they will be hitting the road with the legendary Megadeth this Fall as part of the band's Dystopia tour in North America. Also joining them will be Amon Amarth, Suicidal Tendencies, and Metal Church. The month long tour starts in Casper, WY on September 20 and concludes on October 16 in Camden, NJ. In addition to the tour, both Butcher Babies and Megadeth will be performing at this year's "Ozzfest Meets Knotfest" event, which takes place on September 24 & 25 in San Bernardino, CA

Speak about their enthusiasm for the upcoming tour, Butcher Babies vocalist Heidi Shepherd states, "We're incredibly honored to join forces with some of our idols, legendary musicians and bands! Megadeth is a staple in metal music and we can't think of a better way to round out our 2016 touring schedule than with these metal gods. Who didn't grow up with a Megadeth poster glued to your wall with dreams of dreams of sharing the stage with them. Bucket list... Check!"
More Tour Dates
Tags:
butcher babies, megadeth, Hiedi
Follow us on Twitter
|
Like Us
Date: Sep 12, 2016
As Reported by:
Sevine E. Levine