German musical virtuoso Hannes Grossmann new Record Sep 2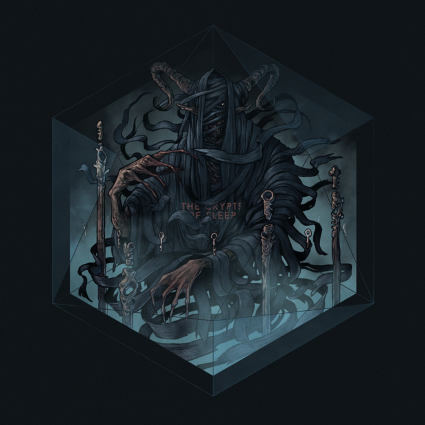 German musical virtuoso Hannes Grossmann (Alkaloid, Blotted Science, Hate Eternal, ex-Obscura, ex-Necrophagist) is proud to present his much anticipated sophomore album, The Crypts of Sleep.

Entirely written, arranged, self-recorded and self-produced by Grossmann between September 2015 and June 2016 at his own Mordor Sounds studio in Veitsbronn, Germany,

The Crypts of Sleep is a progressive metal masterpiece of the highest order. Grossmann plays drums on the entire album and has enlisted the the help of numerous all-stars in the extreme music scene to fill the other roles including Danny Tunker (Alkaloid, Abhorrent, ex-Aborted) - Rhythm and Lead Guitars, Linus Klausenitzer (Obscura, Alkaloid, Noneuclid) - Bass, Morean (Alkaloid, Dark Fortress, Noneuclid) - Vocals, Christian Muenzner (Spawn of Possession, ex-Obscura, ex-Necrophagist) - Lead Guitars, Fountainhead (ex-Obscura, Despotic) - Lead Guitars, Per Nilsson (Scar Symmetry) - Lead Guitars, and Erik Rutan (ex-Morbid Angel, Hate Eternal) - Lead Guitars.


Recording Lineup:
Morean - Vocals (Dark Fortress, Alkaloid)
Danny Tunker - Rhythm and lead guitars (Abhorrent, Alkaloid, ex-Aborted)
Linus Klausenitzer - Bass (Obscura, Alkaloid)
Hannes Grossmann - Drums (Alkaloid, Blotted Science, ex-Necrophagist)
Christian Muenzner - Lead guitars (Spawn of Possession, ex-Obscura,
ex-Necrophagist, Alkaloid, Eternity's End)
Fountainhead - Solo guitar (ex-Obscura)
Per Nilsson - Solo guitar (Scar Symmetry)
Erik Rutan - Solo guitars (Hate Eternal, ex-Morbid Angel)

Bio:
Born September 8th 1982, Hannes Grossmann grew up in a musical family and started playing the piano at the age of 8. Two years later he chose the drums as second instrument, which soon should become his main passion. By learning different styles of drumming such as rock, jazz, fusion, funk and latin and taking lessons with Canadian teacher Donnie MacKay, Hannes developed an own style by combining all these different musical approaches with extreme Metal drumming.

Hannes' got his first professional obligation in 2003, becoming a member of German Technical Death Metal band Necrophagist, a band which back then was rather unknown to most people. After recording and releasing the critically acclaimed album "Epitaph" in 2004 the underground status of Necrophagist changed completely: From 2005 until early 2007 Hannes played around 200 concerts with Necrophagist all over the world and gained popularity in the global metal scene.
In 2007 Hannes left Necrophagist in order to finish his master degree in business administration. In order to accomplish his own musical vision, he joined an underground band named OBSCURA. The empty place behind the drums in Necrophagist was taken by drum legend Marco Minnemann, one of Hannes' favorite and most influential drummers. In 2008 OBSCURA was able to get a worldwide deal with US label RELAPSE RECORDS and one year later the metal music press was stunned by the virtuosity the band showed on their album "Cosmogenesis", which immediately cracked US billboard charts.

In 2010 Hannes was invited to become part of BLOTTED SCIENCE, an extreme Metal super group featuring Alex Webster (Cannibal Corpse) and Ron Jarzombek (Watchtower, Spastic Ink), with whom he recorded the critically acclaimed EP "The Animation of Entomology" – released in late 2011.

In 2011 Hannes was extremely productive. Not only recording and releasing the BLOTTED SCIENCE record, he both recorded his second album for OBSCURA, entitled "Omnivium", and also produced his first drum DVD – "Progressive Concepts for the Modern Metal Drummer".
Hannes is a very active clinician, having played at the Dresden Drum Festival 2011, Meinl Drum Festival 2012, E.D.U. Drum Fest 2012, Ammerland Drum Fest 2012, the Adams Drum Festival in 2013, among other masterclass performances.

Hannes is the author of drum educational book entitled "Extreme Metal Drums", which was published in early 2013 by Hal Leonard. Hannes received a notice award by Modern Drummer Magazine. In 2013 Hannes recorded his first solo album "The Raidal Covenant", which was released in early 2014. The album features songs Hannes had written for the Obscura, but due to musical differences he decided to release it on his own.

In 2014 Hannes left Obscura in order to fully focus on his new main band ALKALOID, featuring Morean (Dark Fortress, Noneuclid), Christian Muenzner (Obscura, Necrophagist, Spawn of Possession, Eternity's End), Danny Tunker (Aborted, God Dethroned) and Linus Klausenitzer (Obscura, Noneuclid). After successfully funding the album on Indiegogo with a result of 19,119 € the band released its debut album in early 2015, entitled "The Malkuth Grimoire".
Hannes also opened his own recording and mixing facility MORDOR SOUNDS.
In 2015 Hannes joined the ranks of legendary Florida Death Metal machinery HATE ETERNAL as a touring drummer. Hannes Grossmann plays Tama drums, Evans Drumheads, Vic Firth sticks and Meinl cymbals exclusively.
More Tour Dates
Tags:
Hannes Grossmann, Crypts of Sleep, Obscura, Necrophagist, tunker
Follow us on Twitter
|
Like Us
Date: Aug 30, 2016
As Reported by:
Sevine E. Levine