Ozzfest Joins Forces With Knotfest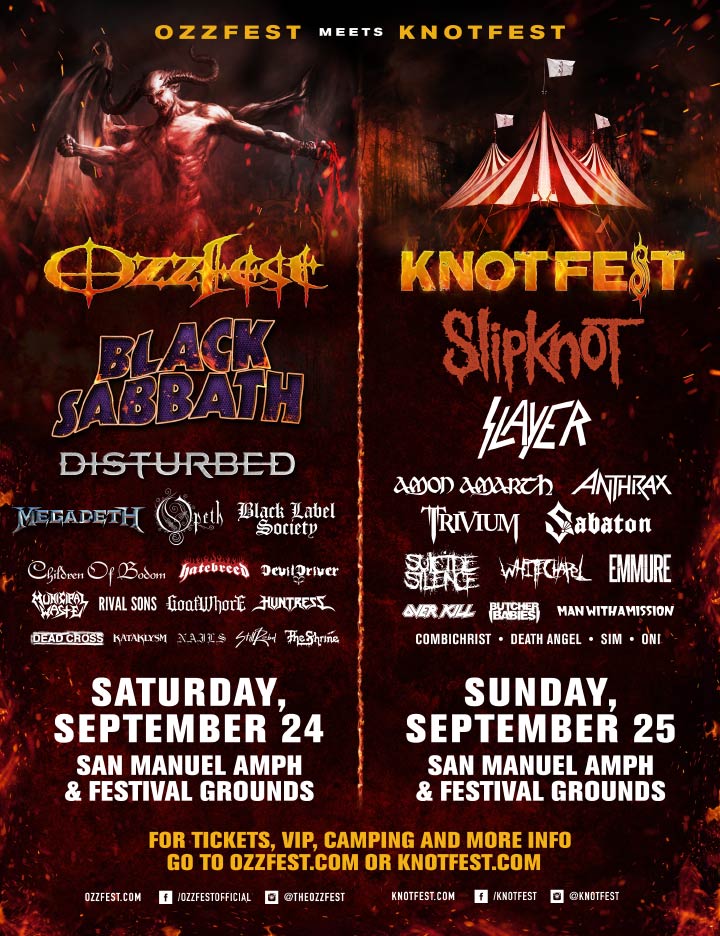 Ozzfest, founded by Ozzy and Sharon Osbourne 20 years ago, and Slipknot's Knotfest will combine for a Live multi-stage festival Sept. 24-25 at San Manuel Amphitheater and Festival Grounds in San Bernardino, California.

OzzFest Meets KnotFest will go on sale May 20 at OZZFEST.COM and KNOTFEST.COM. Details were revealed at a press conference Thursday (May 12) at the Palladium in Hollywood, California.

The OzzFest day of the festivities will be headlined by Black Sabbath, marking their last Southern California performance as part of the band's final tour. The bill for KnotFest, founded in 2012, is topped by the festival's namesake, Slipknot. On hand at the press conference were Ozzy Osbourne and Slipknot's Corey Taylor and M. Shawn Crahan (aka Clown).

Bands included are Black Sabbath, Slipknot, Slayer, Disturbed, Megadeth, Opeth, Anthrax, Amon Amarth, Trivium, Sabaton, Suicide Silence, Whitechapel, Emmure, Children of Bodom, Hatebreed, Devildriver, Municipal Waste, Rival Sons, Goatwhore, Huntress, Overkill, Butcher Babies, Death Angel, Kataklysm, Nails, and more.
More Tour Dates
Tags:
Ozzfest, Knotfest, Black Sabbath, Slipknot, Slayer
Follow us on Twitter
|
Like Us
Date: May 12, 2016
As Reported by:
Jason Fisher