Former Machine Head Bassist Sues Band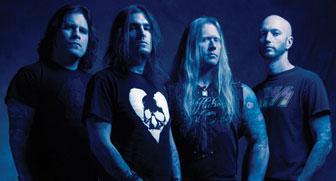 Machine Head bassist Adam Duce has filed a lawsuit againt former members of the band. Duce has filed a lawsuit against the band, its three current members and manager in Federal Court, alleging trademark infringement, breach of partnership agreement and defamation, among other things.
Duce claims that he was kicked out of the band before they signed a new record deal and then band members went on to claim he quit because he was "sick of it."
Corthouse News reports that "Despite their increase in popularity and touring revenue, plaintiff became concerned with how little income he was receiving, despite the time and hard work put in to developing the Band," Duce says in the complaint.
He says he questioned Flynn and the band's manager, defendant Joseph W. Huston, but never got a satisfactory answer.
In 2009, Machine Head toured with Metallica in Europe, grossing more than $2 million. A 2012 Europe tour grossed more than $3 million, according to the complaint.
"After receiving very little compensation despite the millions the band was bringing in, plaintiff requested and reviewed the records from the tours. Plaintiff found that Huston, Flynn, and PFM [Provident Financial Management] had squandered money throughout the trip without consulting plaintiff for the vast majority of 'expenses,'" Duce says in the lawsuit.
Huston and the band's management companies received a percentage of the band's gross income, but the band members were not receiving "an income commensurate with the work put in and the income earned," according to the complaint.
"Despite plaintiff's expressed concerns, he was unable to make enough money to live within his modest means. Because of this, when the band was not touring, plaintiff supplemented his income as a licensed real estate appraiser," Duce says.
On Feb. 11, 2013, as the band was seeking a new record deal, "Flynn, Huston, and the rest of the Band 'fired' plaintiff - expelling him from the band after he put 21 years of his life into it," Duce says.
Duce believes he was fired just before the deal was completed with defendant Nuclear Blast America to allow the other band members to make a bigger profit.
Flynn announced Duce's departure on Machine Head's website by "directly attacking plaintiff's work ethic," Duce says in the complaint.
"Therein, Flynn stated, inter alia, 'We may have fired Adam on 2-11-13, but Adam quit Machine Head well over a decade ago. He just never bothered to tell anyone ... but we all knew it.' Flynn went on further in the diary entry, continuing to say about plaintiff, 'No matter how un-happy [sic] or fed up he got, quitting the band would be seen as 'losing' or a 'failure.' Truth be told, he was sick of it. Sick of touring, sick of recording, sick of practicing, sick of looking at album artwork, sick of being-on-a-team-but-never-getting-the-ball, sick of yearning-for-the-honeymoon-to-resume when 20 years deep it never does. Sick of never quite hitting the big-time, sick of carving the niche ... sick of caring.'" (Ellipses in complaint.)
Duce was replaced as bassist and back-up singer in June 2013 with defendant Jared MacEachern.
Duce says he still holds interest in the band's partnership and company, but has not received any distributions from either. He claims that no agreement was ever made about his share of future royalties and profits.
The other band members "simply kicked him out of the band and presumed he would forget about over two decades of hard work, dedication, and effort he put into the Band," Duce says.
The band continues to use Machine Head's mark for musical recordings, live shows and merchandise, and performs as Machine Head, though the public associates Machine Head as "featuring Adam Duce playing bass guitar and singing backup vocals as it has for over 20 years," according to the complaint.
Duce also says his likeness is used on the band's website and in promotions without his authorization.
He seeks damages and punitive damages for trademark infringement, breach of fiduciary duty, breach of partnership agreement, intentional and negligent interference with prospective economic relations, negligence, defamation and unfair competition, and he and wants the band enjoined from using the Machine Head marks.
He is represented by Yano L. Rubinstein
Read More News
Tags:
Machine Head, Adam Duce, Robb Flynn



Jason Fisher

January 20, 2014


More News

Read about Darker Half and their newest album, If You Only Knew

Deleo's "Mythomania" to be released June 19th!

Secret Bad Boy release a slow-jam for nihilists: It Was Always Too Late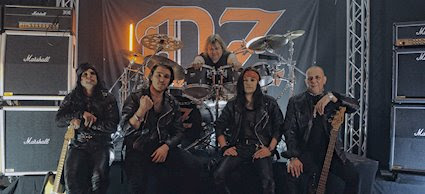 Oz has returned with their new album "Forced Commandments" after 2 years!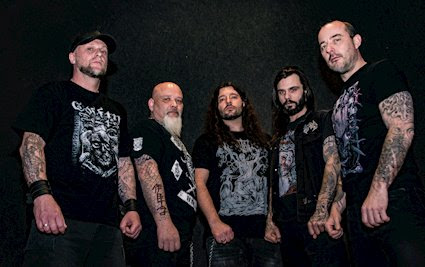 Sinister to release their new album "Deformation Of The Holy Realm" later this month