Steel Panther Launch Crowd Funding Campaign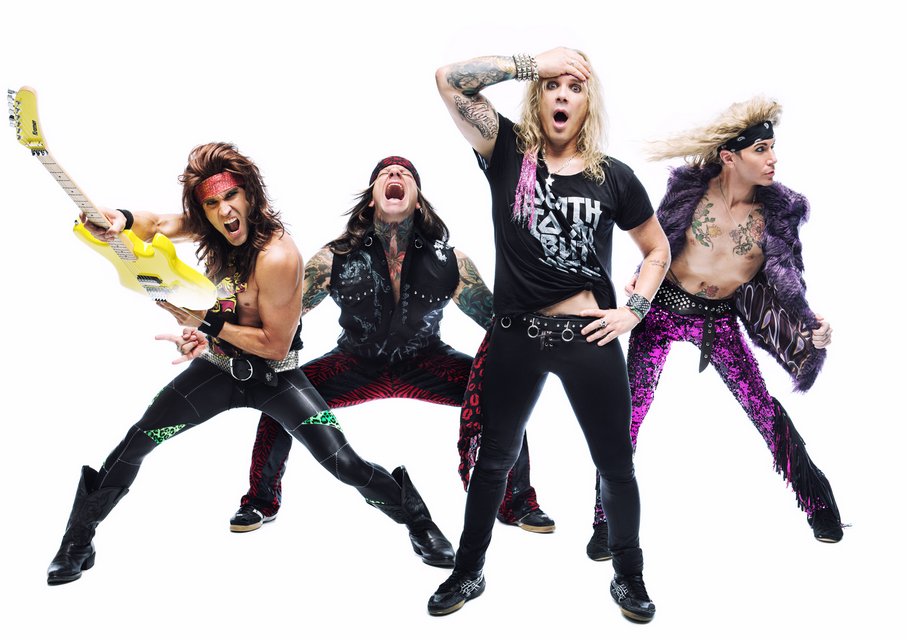 The Sunset Strip's hottest export, Steel Panther, is releasing their first piece of new music in over two years. Their latest single "Party Like Tomorrow Is The End Of The World," the debut song from their upcoming third full-length album All You Can Eat, is being released to the world with a star-studded video that is premiering below. The video was directed by and features an appearance by Rob Riggle; known for his work in films such as 21 Jump Street, The Other Guys and as a regular contributor to The Daily Show with Jon Stewart. The video also features cameos by some of Steel Panther's closest celebrity friends including porn legend Ron Jeremy, former UFC champion Chuck Liddell, Jackass star Steve-O and Breaking Bad star RJ Mitte. Also spotted in the video are Limp Bizkit's Wes Borland, 'N Sync's Joey Fatone, comedian Hal Sparks and a slew of beautiful women that only Steel Panther can party with. The single will also be available on all digital retailers for purchase. The link to purchase at iTunes is here. The exclusive pre-order for All You Can Eat launched today and fans can go to Pledge Music to purchase an array of different pre-orders packages including ones with a signed guitar, customized voice mail greeting and naked photos of Satchel to name a few things. Longtime Steel Panther producer Jay Ruston produced the new album.

"What happens when you cross the best party you've ever been to with the best song you've ever heard with the best looking band in Heavy Metal?" asks guitarist Satchel. "Steel Panther's new video "Party Like Tomorrow is the End of the World!!! That's what!"

Steel Panther has also just signed two agreements with Kobalt Music Group (Kobalt) to providelabel services and publishing administration for the highly anticipated newalbum All You Can Eat. KLS, Kobalt's label services division, is partnering with Open E Music to promote and release the forthcoming Steel Panther album worldwide excluding Japan. Steel Panther has also officially become a worldwide music publishing client of Kobalt, which is providing administration and synch licensing for both masters and publishing of the band's entire catalogue, including All You Can Eat.


More Tour Dates
Tags:
Steel Panther
Follow us on Twitter
|
Like Us
Date: Oct 29, 2013
As Reported by:
Jason Fisher