Iced Earth To Offer Limited Edition 12" On Tour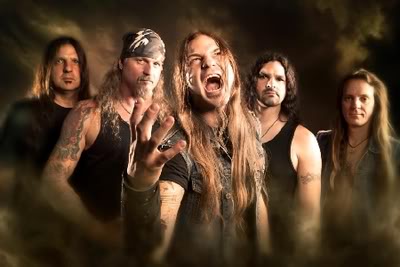 On October 11th, VOLBEAT embark on their arena tour in support of their fifth album, Outlaw Gentlemen And Shady Ladies. The quartet will be joined by a company of good friends and accomplices; ICED EARTH will be main support from October 11th in Milan until December 1st in Copenhagen.

Iced Earth's Jon Schaffer checks in with this update: "Band and crew have gathered and we have begun rehearsals for the Volbeat tour that kicks off this Friday in Milan. We are really excited to begin this new touring cycle even though it feels like the previous one only ended yesterday. It will certainly be killer to see you guys out there and hang with my brother Michael and the guys in Volbeat and their team.

On another note: we have been thinking of offering something special to our fans on this tour and here it is:

* A 12" 180g Vinyl EP
* Limited, hand-numbered edition (1000 units only)
* Blood red vinyl
* Heavy duty cardboard sleeve with matte print





Featuring the world premiere of the following songs:

'Plagues Of Babylon'
'If I Could See You'
'Peacemaker'




This is our own project and we are really excited about it. This will be for sale only at the Volbeat shows, first come, first serve!

Please see some impromptu pack shots and an image of the front and back cover art.See you down the road!"
More Tour Dates
Tags:
Iced Earth
Follow us on Twitter
|
Like Us
Date: Oct 07, 2013
As Reported by:
Jason Fisher