Death Angel Announce New Album Details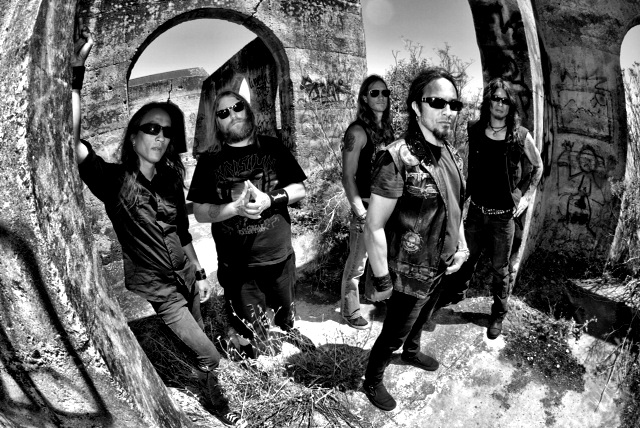 Three years have passed since the release of DEATH ANGEL's crushing Relentless Retribution album; three years of constant touring and on-the-road-songwriting. Now the Bay Area veterans have returned with yet another visceral slice of thrash!

The Dream Calls for Blood was recorded at AudioHammer Studios with Jason Suecof (TRIVIUM, AUGUST BURNS RED, THE BLACK DAHLIA MURDER, ALL THAT REMAINS, WHITECHAPEL, DEVILDRIVER), and once again features cover art by Brent Elliot White (JOB FOR A COWBOY,CARNIFEX, WHITECHAPEL). The Dream Calls for Blood will be released to the rabid masses on October 11th (Rest of Europe), October 14th (UK), and October 15th (North America).

Rob contacted me early on about doing this cover," explains White. "He wanted a continuation of the work we did on Relentless Retribution.
Kind of a complimentary piece that featured the wolf in sheep's clothing again, only this time in some sort of frozen environment. I love it, I guess he's come to be known as 'Wolfie'. Perfect! As the concepts for the album grew, so did the details and various elements for the album cover. For example, It started as a single lone wolf, though Rob thought it important to add his pack. I guess they're somewhat symbolic of the band. The wolves look like they've come a long ways, I can relate. I don't want to try to dictate the meaning of the cover art. Suffice to say the main elements depicted in the piece are representational of the core thoughts and themes Rob poured into the album. Solar eclipse, lunar mirage, lighting from the coming storm, the killing field, blood, death, decay...those things. Though at times this one was a struggle (thanks for your patience with me DA, VJ and NB!) the album title actually pushed it to where it needed to be. I love the title, a perfect representation of the lyrics and DEATH ANGEL in general."

"Once again my metal brothers have put out an album that truly captures their live energy and originality as a band," commented Suecof. "DEATH ANGEL has not only maintained their classic thrash element, but they've taken every aspect of what they can do as musicians to the next level - writing, playing and maintaining an intense vibe throughout all the tracks! I believe this is an album that will stand the test of time - not just for DEATH ANGEL fans, but for fans of all genres of metal. Enjoy!"

Added guitarist Rob Cavestany: "The Dream Calls for Blood is the wicked stepsister to our last album, Relentless Retribution - but even more cruel and sinister than her! It's the first time we connected two records - created and produced by the same team in the same studio as 'RR', yet this release is more furious... probably because so much of it was written on the road. Brent did an amazing job with the cover art, again capturing the natural brutality of the hunted becoming the hunter... as territorial instinct turns into bloodlust! Down to the last detail, his art depicts a visual that matches our music and lyrics - making a complete package that we are so proud of! Can't wait for you all to hear, see and feel it. Now we prepare to bring it live!"

DEATH ANGEL recently announced a CD release show on October 18th at Slim's in San Francisco, CA with special guests 3 INCHES OF BLOOD, BATTLECROSS and REVOCATION. Everyone that purchases a ticket will also receive a copy of the new DEATH ANGEL album at the show! Tickets now on sale at http://tickets.slims-sf.com/events/338248
More Tour Dates
Tags:
Death Angel, Nuclear Blast Records
Follow us on Twitter
|
Like Us
Date: Aug 06, 2013
As Reported by:
Jason Fisher