Grindcore Tribute Festival For Jesse Pintado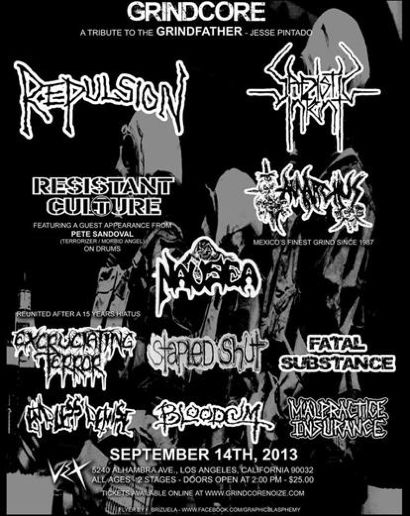 The Grindcore Collective and Music Obscure will unite and gather to pay tribute to one of the early pioneers and leading forefathers of the grind core genre Jesse Ernesto Pintado (TERRORIZER, NAPALM DEATH, LOCK UP, RESISTANT CULTURE). Pintado was known for his creative and musical contribution to the Grind Core Scene which he coined the term back in 1983 to describe a fledgling musical revolution that incorporated the extreme aggression of political anarchic chaotic sounds of UK punk rock and the ferocious sledgehammer guitar chord grinding of extreme metal to create
grindcore.

This monumental musical event which will take place on September 14th at The Vex in Los Angeles, CA. Emma Pintado loving sibling of Jesse Pintado was moved and motivated to gather all under one roof who shared in the remorse and sadness of the tragic death of Jesse Pintado in 2006. Emma Pintado along with close family & friends took their grief and channeled their energy into a positive force to create this celebratory event that will incorporate the spirit and memoralize the Grind Core Icon.

This festival, entitled Grindcore A Tribute To The Grind Father Jesse Pintado will feature the following acts:
REPULSION
SADISTIC INTENT
NAUSEA
RESISTANT CULTURE
ANARCHUS
EXCRUCIATING TERROR
ENDLESS DEMISE
STAPLED SHUT
BLOODCUM
FATAL SUBSTANCE
MALPRACTICE INSURANCE

All event info will also be available at Grindcorenoize.com.
More Tour Dates
Tags:
Jesse Pintado, grindcore
Follow us on Twitter
|
Like Us
Date: Jul 26, 2013
As Reported by:
Jason Fisher