Nashville Pussy bassist leaves mid tour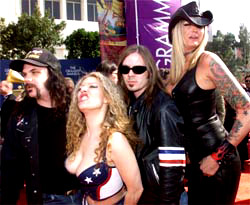 NASHVILLE PUSSY has issued the following update:

"Karen (Cuda, bassist) has had to leave the tour for a family emergency, she bravely played a brilliant show in Toronto and hopped on a plane to be with her family the next day. Karen will rejoin the tour at some point but for the moment we have secured non other than Mr. Eddie Spaghetti of THE SUPERSUCKERS to fill in until our sexy gal Karen can return!"

Remaining dates on Nashville Pussy's Canadian tour are as follows:

October
24 - London Music Hall - London, Ontario
26 - The Office - Thunder Bay, Ontario
27 - The Royal Albert - Winnipeg, Manitoba
28 - The Distrikt - Regina, Saskatchewan
29 - Amigo's - Saskatoon, Saskatchewan
30 - Lyve on Whyte - Edmonton, Alberta
31 - The Republik - Calgary, Alberta

November
3 - Club 9ONE9 - Victoria, British Columbia
4 - Rickshaw Theater - Vancouver, British Columbia
5 - Garibaldi Lift Co. - Whistler, British Columbia

In other news, Nashville Pussy vocalist/guitarist Blaine Cartwright will be the special guest DJ tonight - Saturday, October 23rd - at The Bovine Sex Club on Queen St. W. in Toronto, Ontario.
More Tour Dates
Tags:
Nashville Pussy, Karen Cuda, tour
Buy Nashville Pussy Merch
|
Follow us on Twitter
|
Like Us
Date: Oct 23, 2010
As Reported by:
Jason Fisher