Dave Mustaine Says The Dumbest Things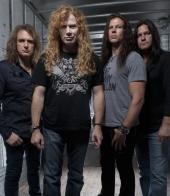 Since giving up drugs and alcohol and becoming a born-again Christian, Dave Mustaine has done and said some pretty asinine things. Just read this site for some of his greatest hits of late. But I think his comments in a recent interview with MTV Hive took the cake. The interviewer asked Mustaine about some recent comments made by the totally batshiat ex-GOP frontrunner Rick Perry regarding an attack on prayer in schools. Dave Mustaine so eloquently responded "It's pretty clear that they're taking prayer out of school. It's been happening for a very long time. The very first schoolbook that was written had God all over it. I collect books and I have some really, really old schoolbooks, and God is mentioned on every single page. They're taking God out of the schools to dumb us down."

Dave, as people get smarter, they begin asking questions and they realize that the bible and organized religion is a farce. Aside from that, removing religion from public schools is actually kinda covered in the Constitution. You might recall that in 1948, the U.S. Supreme Court used the "Separation of Church and State" argument to outlaw a time for school prayer. In Engel v. Vitale, 1962 the Supreme Court again declared that prayer in school was unconstitutional. In 1963 the Warren Court stopped schools from allowing Bible reading in classes. In 1980 the Supreme Court declared that posting the Ten Commandments in a school classroom violated the Constitution of the United States. This is not an attack on religion, but upholding the law of the land, something you sing about in your songs.

Dave, please go back to drinking tons of alcohol and worshipping Satan. Your music was much better back then.
Upcoming Tour Dates
Feb 22, 2014
Feb 23, 2014
Feb 28, 2014
Mar 01, 2014
Mar 03, 2014
More Tour Dates
Tags:
Megadeth, Dave Mustaine, prayer
Buy Megadeth Merch
|
Follow us on Twitter
|
Like Us
Date: Dec 20, 2011
As Reported by:
Jason Fisher