UFC's KYLE WATSON trains with heavy metal guitarist Zoltan Bathory of FIVE FINGER DEATH PUNCH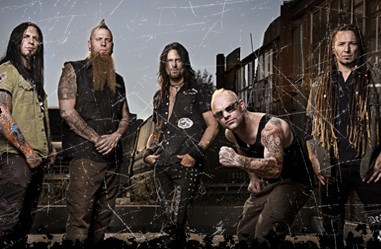 Heavy metal guitarist Zoltan Bathory of the hard hitting band FIVE FINGER DEATH PUNCH recently stopped by UFC/TUF's KYLE WATSON'S gym, Watson Martial Arts in St. Louis, Missouri, for a session with the MMA fighter. Before a metal filled evening, Bathory, a successful Judo and Brazilian Jiu Jitsu practitioner, stopped by to roll with Watson and teach some students BJJ techniques.

Watson demonstrates the technique on Bathory, which Watson credits to his coach, Jack McVicker.

A short clip of the pairs training session can be viewed here.

Kyle is returning to the ring after his last bout against John Makdesi in the UFC in which he lost via spinning back fist. Watson will be fighting February 3rd at the upcoming Cage Warriors event.
Upcoming Tour Dates
Jun 29, 2013
Jun 30, 2013
Jul 02, 2013
Jul 03, 2013
Jul 05, 2013
Jul 06, 2013
Jul 07, 2013
Jul 10, 2013
Jul 12, 2013
Jul 13, 2013
More Tour Dates
Tags:
Five Finger Death Punch , FFDP , Zoltan Bathory , Kyle Watson , UFC
Buy Five Finger Death Punch Merch
|
Follow us on Twitter
|
Like Us
Date: Dec 28, 2011
As Reported by:
Jason Fisher