Sevendust Interview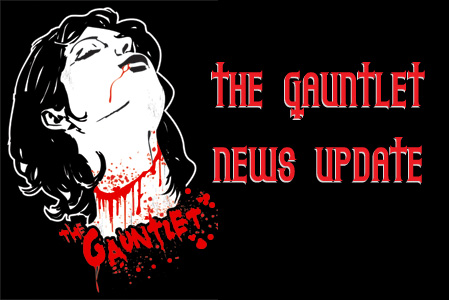 HEY GUYS THIS IS SHAUNA O'DONNELL HERE. I'M AT THE HOUSE OF BLUES IN ANAHEIM, CA TONIGHT SITTING HERE WITH CLINT LOWERY OF SEVENDUST. I'M REALLY EXCITED TO SEE THIS SHOW.
SHAUNA O'DONNELL:
HI CLINT THANKS FOR BEING ON THE SHOW.
Clint:
Thanks for having me and it's good to see you.
SHAUNA O'DONNELL:
YOU GUYS ARE PLAYING WITH DROWNING POOL TONIGHT. HOW'S THE TOUR GOING SO FAR?
Clint:
It's been good, I mean, this is the last couple shows that Drowning Pool is going to be on. They're all friends of ours. It's been unbelievable attendance wise, energy wise and family vibe wise.
SHAUNA O'DONNELL:
HERE YOU ARE AT THE HOUSE OF BLUES WITH DISNEY SURROUNDING US.
Clint:
I know, it's like Jurassic Park kind of out here right now, but it's cool.
SHAUNA O'DONNELL:
DEFINITELY! NOW ON APRIL 20TH YOU WILL BE RELEASING YOUR LATEST ALBUM TITLED COLD DAY MEMORY THROUGH 7 BROS. THIS IS YOUR EIGHTH STUDIO ALBUM, CONGRATULATIONS!
Clint:
Thank you very much; it's been a wild trip for sure.
SHAUNA O'DONNELL:
WHAT DID YOU DO DIFFERENTLY WITH THIS ALBUM THAT YOU DIDN'T DO WITH THE PREVIOUS SEVEN?
Clint:
I wasn't involved on the last three. I went and formed Dark New Day, but this is my first one back. I think we kind of just did what we did on the first couple records. We just wanted to write the best songs. We weren't really trying to do the heaviest or more melodic record. We just wanted to do a very honest Sevendust record and I think that's what we did. If you're a Sevendust fan, this is definitely a must have. It's our band, its every element that we bring in and ever have brought in. It's our strong points I think, we'll see.
SHAUNA O'DONNELL:
ALL FIVE BAND MEMBERS CONTRIBUTED TO THE LYRICS THIS TIME. IS THAT SOMETHING THAT YOU'VE ALWAYS DONE OR IS THAT NEW?
Clint:
Not all five of us did, I was gone for awhile so I think the guys kind of let me step in. They had done three records without me, so they were like 'Hey, you've been gone. You need to make up for lost time." Lajon and I wrote together and I also wrote some stuff with Morgan. John contributed some lyrics too, so between the four of us, we put together the lyrics for the record.
SHAUNA O'DONNELL:
YOU DISTRIBUTED THE RECORD THROUGH 7 BROS. WHICH IS ACTUALLY THE BANDS LABEL. WHEN DID YOU GUYS START THE LABEL?
Clint:
It was right before Next. There have been a couple different things that have happened. They started out with Winedark, we left TVT, I left the band and they had a couple different deals, but we kind of ended up here right now with 7 Bros. distributed through ILG.
SHAUNA O'DONNELL:
DO YOU FIND THAT YOU ARE ABLE TO DO EVERYTHING ON YOUR OWN WITHOUT THE HELP OF A MAJOR?
Clint:
Yeah, there are certain elements you've got to have. We have to have someone who distributes it. There are some things we can't do, but everything else creatively we do ourselves. We hire outside marketing, we are basically just facilitating it ourselves. There are other outlets that we have to use to actually physically put them out there and distribute that we cannot do ourselves.
SHAUNA O'DONNELL:
JOHNNY K PRODUCED IT; HE HAS WORKED WITH A LOT OF KILLER BANDS. I'M HEARING HIS NAME MORE AND MORE. YOU HAVE WORKED WITH SHAWN GROVE ON THE PAST COUPLE ALBUMS, SO WHY THE CHANGE NOW?
Clint:
I'm a firm believer in an outside perspective of everything. We knew what album we were going to make and it wasn't necessarily that we needed someone to help guide us through the recording process. We just needed someone to engineer it and help us decide when we can't decide amongst ourselves. Johnny came in and was just another voice. It was good to have that outside entity. My brother Corey Lowery produced a lot of it beforehand. He did a lot of pre-production and recorded a lot of Lajon's vocals. There were a couple different people that we hired on. Johnny is awesome, he has a great place in Chicago and he is good at what he does.
SHAUNA O'DONNELL:
YOU HAD DONE SOME TOURING WITH DISTRUBED, IS THAT HOW JOHNNY'S NAME CAME UP?
Clint:
No, actually it was Mike from Staind who was more of a deciding factor. I like to hear from an artist as to what they think of a producer as opposed to what I've seen. There are a lot of producers that have gold and platinum records, but that doesn't mean it was a pleasurable experience. There are a lot of ways to do a record and you don't have to deal with a guy that's an ass. You can deal with a guy that is cool and we found out Johnny is cool. Sometimes you have to hear some harsh stuff from a producer, but he was good.
SHAUNA O'DONNELL:
THIS IS THE BAND'S FIRST ALBUM WITH THE ORIGINAL LINE-UP BACK TOGETHER. HOW DOES IT FEEL TO BE BACK?
Clint:
It feels good, I was gone for a while, but I got to come back with fresh ears and a fresh perspective. The guys are my brothers and it was hard to be gone.
SHAUNA O'DONNELL:
I BET THEY ARE HAPPY TO HAVE YOU BACK TOO.
Clint:
Yeah, I hope so. They lie well either way.
SHAUNA O'DONNELL:
IT WAS NOTHING AGAINST SONNY, YOU GUYS JUST FELT THAT IT WAS IN THE BANDS BEST INTEREST TO PUT THE ORIGINAL BAND BACK TOGETHER.
Clint:
Yeah, exactly.
SHAUNA O'DONNELL:
I WANTED TO LET EVERYONE KNOW THAT IF YOU PRE-ORDER THE NEW ALBUM COLD DAY MEMORY, YOU WILL RECEIVE A LIMITED AUTOGRAPHED CD BOOKLET. PRE-ORDER IS THE WAY TO GO!
Clint:
Yeah, we always want to give. Some people love that jump start and they want to get it before everyone else. We are happy for those people and we love those people.
SHAUNA O'DONNELL:
YOUR SINGLE FOR THE ALBUM IS CALLED "UNRAVELING" AND IT WAS CO-WRITTEN BY DAVE BASSETT OF SHINEDOWN/PUDDLE OF MUDD. TELL US WHAT THE SONG REFLECTS UPON.
Clint:
Initially, we just sat down and started strumming some guitars and he was like 'let's talk about topics." He's a firm believer in letting the artist kind of dictate the direction so it's sincere. I believe you need to write about what you've been through. It basically started off about the relationship with my father and then it kind of branched out into a general relationship with anybody where you need help and they do not help you. They just kind of abandon you. We like to keep in general.
SHAUNA O'DONNELL:
SO THE FANS CAN MAKE THEIR OWN INTERPRETATION.
Clint:
Yeah, exactly, I don't want to say "My name is Clint and my dad …." I just want to keep it open for everybody. The initial spark for the idea came from a thing I was feeling about my father.
SHAUNA O'DONNELL:
THE SINGLE IS DOING VERY WELL ON THE ACTIVE ROCK CHARTS AND IS NOW AVAILABLE ON ITUNES. I HEAR A VIDEO FOR IT IS IN THE WORKS. CAN YOU GIVE US A LITTLE INSIGHT ON WHAT WE CAN EXPECT?
Clint:
Yeah, we got Steven Spielberg and he is going to be coming in to do the video. No, actually, I was watching some kids film the show the other night. I thought it would be cool to have everyone do like a flip camera version of the shows. On this next tour we are going to have people with flip cameras come to the shows in different cities. We will have them film four minutes of footage of whatever they want to do. It could be of the parking lot or the actual show and we are going to edit it. It's going to be tedious, but we are going to use a lot of that footage. We will give them an address to send it to or email it. We will make a video from their footage. It will be cool to let people be a part of it and get them excited about coming to the show too.
SHAUNA O'DONNELL:
THAT'S ONE THING THAT I REALLY LOVE ABOUT YOUR BAND, YOU GUYS LET YOUR FANS PARTICIPATE IN A LOT OF THINGS. THAT LEADS ME TO WHAT I WAS GOING TO BRING UP NEXT. YOU GUYS DID SOMETHING THAT I THOUGHT WAS REALLY GREAT. YOU WERE ASKING THE FANS TO HELP PUT TOGETHER YOUR SET LIST.
Clint:
Yeah, we were talking about it. We were having a little meeting about direction and everyone was saying "Well people are saying they want this." So I said 'Let's just clarify it, put a blog out and get people to put their two cents in." It's always right, people are never wrong. People say they write for themselves, but I like what the people like. I stand true to what the core Sevendust fans like. They like Sevendust because of a certain pure reason. We can lose sight of that a little bit. They have a certain opinion that is formed and is true to this day, so you got to listen to those people.
SHAUNA O'DONNELL:
THE FANS ARE THE ONES THAT COME TO SEE THE SHOW SO WHY NOT GIVE THEM WHAT THEY WANT.
Clint:
Yeah and again I like what they want.
SHAUNA O'DONNELL:
I SAW TOUR DATES ON YOUR PAGE UP UNTIL THE END OF MARCH. ARE YOU GOING TO BE ADDING MORE? WILL THEY BE WITH DROWNING POOL?
Clint:
We have a couple different things. Drowning Pool will be one; we always do stuff with them. I think we are going to do some stuff with Nonpoint and I think there's a big tour that we will be doing this summer, but I can't say right now because it's not for sure and I don't want to say and jinx it. We are going to headline all through April, actually starting April 20th in Atlanta we will be doing an in-store and then we will do some east coast stuff. We will possibly do Europe in the fall and then see how this goes. We are always touring.
SHAUNA O'DONNELL:
I'D LIKE TO THANK YOU SO MUCH FOR THE INTERVIEW. IT HAS BEEN ABSOLUTELY WONDERFUL TALKING WITH YOU. BEFORE I LET YOU GO IS THERE ANYTHING YOU'D LIKE TO ADD OR SAY?
Clint:
I'd like to thank everybody who has supported us over the years and we love you guys. Thank you so much.
Read More News
Tags:
Sevendust, Clint Lowery , Clint Lowery, interviews



Shauna O'Donnell

March 13, 2010


More News

Read about Darker Half and their newest album, If You Only Knew

Deleo's "Mythomania" to be released June 19th!

Secret Bad Boy release a slow-jam for nihilists: It Was Always Too Late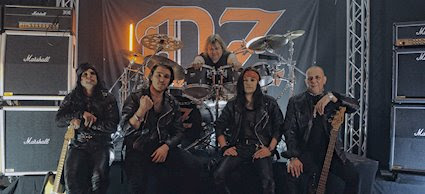 Oz has returned with their new album "Forced Commandments" after 2 years!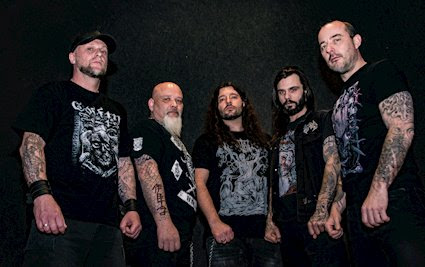 Sinister to release their new album "Deformation Of The Holy Realm" later this month