Iron Maiden issue tour update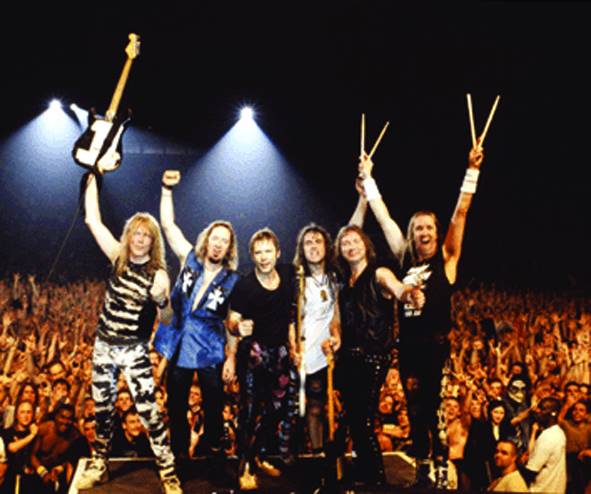 British metal legends IRON MAIDEN have issued the following tour update:

"As you will all know, Maiden will continue the Final Frontier World Tour extensively into 2011 and their return to the Nordics can now be announced with the confirmed dates as follows and onsale details and Fan Club pre-sale details below:

Friday, July 1st - Gothenburg, Sweden - Ullevi Stadium
Wednesday, July 6th - Oslo, Norway - Telenor
Friday, July 8th - Helsinki, Finland - Olympic Stadium

June 30 - July 3 - Roskilde, Denmark - Roskilde Festival


The Iron Maiden Fan Club pre-sale for the Sweden, Norway and Finland shows will start on Monday, September 27th - details will be posted shortly on the homepage.

Tickets go on sale to the public on Thursday, September 30th. (Note that Roskilde Festival goes on sale later in the year - we'll let you know when!)

The Final Frontier album was hugely successful in all the Nordics, being the number one album in Denmark, Sweden, Norway and Finland. In Norway and Finland it remained No 1 for 3 weeks and in Sweden, after being No 1 for 2 weeks, dropped to 2 before returning to No 1 again! It was also Maiden's fourth consecutive No 1 album there and third in Finland. The album is already Platinum in Finland and gold in Sweden and Norway.

Fans are advised to move quickly if they wish to buy tickets - last time (2008) the two stadium shows, Ullevi Gothenburg (53,000) and Helsinki's Olympic Stadium (45,000), sold out in just a couple of hours

An extensive tour of Australia has already been announced for 2011, and watch this site for many more additional countries over the next few weeks and months. Hopefully Maiden will play somewhere near you!!"
Upcoming Tour Dates
May 29, 2013
Jun 05, 2013
Jun 11, 2013
Jun 12, 2013
Jun 18, 2013
Jun 19, 2013
Jun 22, 2013
Jun 25, 2013
Jun 29, 2013
Jul 03, 2013
More Tour Dates
Tags:
Iron Maiden , tour
Buy Iron Maiden Merch
|
Follow us on Twitter
|
Like Us
Date: Sep 21, 2010
As Reported by:
Jason Fisher