SUICIDE SILENCE Post Behind The Scenes Footage From Video Shoot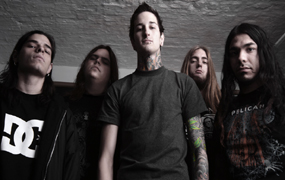 Suicide Silence have posted a behind the scenes teaser for their forthcoming video "You Only Live Once" today. The video is directed by Nathan Cox (Devildriver).

"You Only Live Once" and "Human Violence" are from the forthcoming full-length album "The Black Crown" available via Century Media on July 12th. Look for the band this summer on the Rockstar Energy Drink Mayhem Festival tour starting July 9th.
More Tour Dates
Tags:
Suicide Silence, Century Media Records
Follow us on Twitter
|
Like Us
Date: Jun 30, 2011
As Reported by:
Jason Fisher
This text will be replaced