Ozzy And Sharon Osbourne In Tax Trouble With The IRS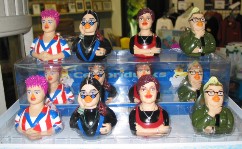 Ozzy and Sharon Osbourne owe more than $1.7 million to the IRS in back taxes ... this according to documents obtained by TMZ.

Ozzy Osbourne Taxes

The IRS filed a document last Monday with the L.A. County Recorder's Office, claiming Ozzy and Sharon owe $718,948.25 for the 2008 tax year, and $1,024,175.03 for 2009.

Sharon had a tax lien issue in 2009, when she owed $23,000 to the State of California for the 2007 tax year.

And Kelly also has tax issues ... last month the State of California filed a lien against her for $34,000.

No comment so far from the Osbourne's rep.
More Tour Dates
Tags:
Ozzy Osbourne, taxes, Sharon Osbourne, hahahaha
Follow us on Twitter
|
Like Us
Date: Apr 08, 2011
As Reported by:
TMZ.com