CRUCIFIED BARBARA's Mia Coldheart Discusses the New Album, Touring, And Beer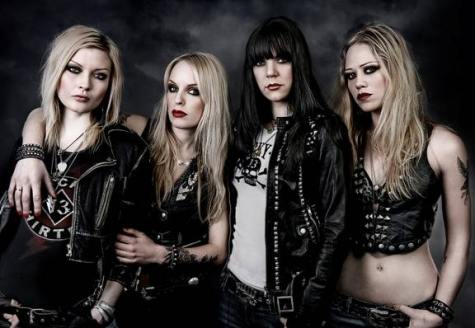 The Gauntlet recently caught up with Crucified Barbara guitarist and vocalist Mia Coldheart. The band is getting ready to release "The Midnight Chase" in the U.S. via Nuclear Blast Records on July 31.

When chatting about her passion for the band and playing, Mia said it hasn't always been a great time. "I have been playing in the band [Crucified Barbara] for twelve years and it can be fun all of the time. There was a period maybe two years ago where I felt really down and I was questioning what I was doing. We were playing a lot and to be on the road and be so focused so much on the band that you give up everything and have to sacrifice a lot. You have to sacrifice being with your friends and family and that is a lot of time. It is like working 24 hours of work. I wasn't even feeling the passion when I was on the stage when we played. It just took a lot of energy. i managed to get out of that black hole and now I feel better than ever."
More Tour Dates
Tags:
Crucified Barbara , Mia Coldheart , interviews
Buy Crucified Barbara Merch
|
Follow us on Twitter
|
Like Us
Date: Jul 10, 2012
As Reported by:
Jason Fisher
This text will be replaced