GOATWHORE confirmed for Splatterhouse soundtrack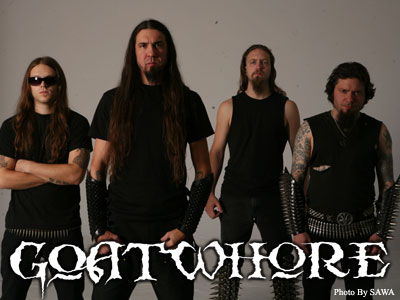 Goatwhore's Apocalyptic Havoc has been confirmed for the soundtrack for upcoming Xbox 360® and PlayStation® 3 game, SPLATTERHOUSE (Rated "M" for Mature by the ESRB and releasing November 23, 2010). The entire soundtrack consists of some of the best metal that's out today and fits perfectly with the game's over-the-top violent imagery. Fans can check out SPLATTERHOUSE trailers, Goatwhore tour dates, videos and order the game right now at metalblade.com/goatwhore!

The SPLATTERHOUSE in game soundtrack includes:
Goatwhore - "Apocalyptic Havoc"
The Accused - "Pounding Nails"
ASG - "Dream Song"
Cavalera Conspiracy - "Must Kill"
Five Finger Death Punch - "Dying Breed"
The Haunted - "Hollow Ground"
High On Fire - "Fire, Flood & Plague"
Invisible Enemies - "Dead Eyes"
Lamb of God - "Walk With Me in Hell"
Mastodon - "Blood and Thunder"
Municipal Waste - "Rigorous Vengeance"
Mutant Supremacy - "Morbid Dismemberment"
Terrorizer - "Dead Shall Rise"
WolfShirt - "Headlong Into Monsters"
More Tour Dates
Tags:
Goatwhore, Splatterhouse, video game, Metal Blade Records
Follow us on Twitter
|
Like Us
Date: Nov 22, 2010
As Reported by:
Jason Fisher