IN THIS MOMENT Post New Track and Audio Snippets of Entire New Album Online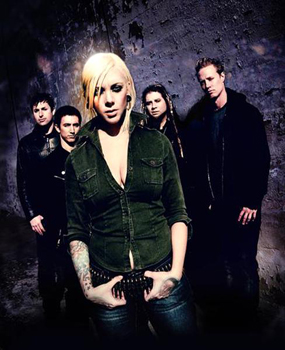 We are only just a mere few weeks away from the release of the new IN THIS MOMENT album, A Star-Crossed Wasteland (July 13th), and the reaction to the new single "The Gun Show" proves that this is one of the most anticipated metal releases of the year. Just to further wet fan's voracious appetites for this new material even more, the band has posted the new track, "Just Drive," on their MySpace and Facebook page, so click on the links below now to check it out here.

Chris Howorth (guitars) checks in with the following report: "As I write this we are currently nine days from the start of the Mayhem Fest. We have been holed up in our rehearsal studio for the last two weeks working on all the new songs and putting together our set list. We have dialed in a pretty brutal set comprised of songs from our first album and our new CD. We can't wait to unleash these songs on the Mayhem crowd every day. Over the last two days we have also done a live performance for Fuel TV and an acoustic performance/interview for Revolver TV. Both performances went great and we were stoked that our good friend Adrian Patrick from Otherwise flew in to perform the song 'The Promise' with us at both events. It was crazy seeing a dude on stage singing with us, but it was also a really cool change from the norm.

"Maria and Adrian are singing this duet together and playing off each other so it's really dramatic. Also, on a really cool side note, Adrian is planning to follow the Mayhem tour to perform 'The Promise' with us each day, so fans will get to see the song performed just like it is on the album all summer. We are releasing a new song called 'Just Drive' today and it's one of Maria's and my favorite songs from the album. It's a driving up tempo song with an epic chorus and aggressive guitar work. We can't wait for fans to hear it. We love you guys and will see you at Mayhem Fest!"
More Tour Dates
Tags:
In This Moment, Chris Howorth, Century Media, Maria Brink
Follow us on Twitter
|
Like Us
Date: Jul 02, 2010
As Reported by:
Jason Fisher