Nevermore post new track online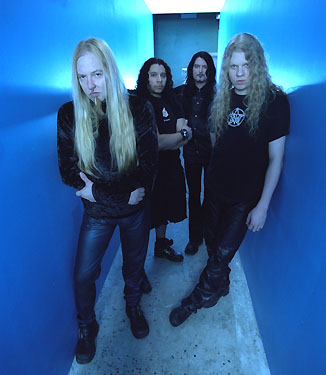 NEVERMORE are back and truly better than ever with the much anticipated new full-length release, The Obsidian Conspiracy, which is what could be their most impressive offering of their illustrious decade plus, heralded career. The enthralling new track, "Without Morals," can now be streamed exclusively at this location and this song is exactly what diehard fans come to expect from these metal titans.

The Obsidian Conspiracy is set for June 8th North American release and you can now access a slew of specially priced album and exclusive t-shirt pre-order bundles at the link below.
http://www.cmdistro.com/Artist/Nevermore/10219

NEVERMORE will also film a video for the song "Emptiness Unobstructed" at their May 18th show at the O2 Academy Islington in London, England. The clip will be directed by Nigel Crane (Paradise Lost).
More Tour Dates
Tags:
Nevermore, The Obsidian Conspiracy, Century Media Records
Follow us on Twitter
|
Like Us
Date: May 14, 2010
As Reported by:
Jason Fisher