Unleashed post new song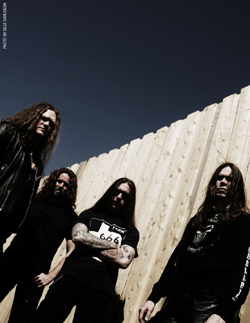 Swedish Viking death metal horde UNLEASHED have uploaded the title track for their upcoming release As Yggdrasil Trembles on their Myspace page. The new album continues on the same unstoppable path that was forged by their previous two releases Midvinterblot and Hammer Battalion, with infectious pagan themed death metal and the amazing lead work of Fredrik Folkare, while also freshly adding a few black metal flourishes here and there.

As Yggdrasil Trembles will be released on March 19th (Europe) and April 6th (North America).
More Tour Dates
Tags:
Unleashed, Midvinterblot, Fredrik Folkare
Follow us on Twitter
|
Like Us
Date: Mar 12, 2010
As Reported by:
admin