Municipal Waste drenched but not defeated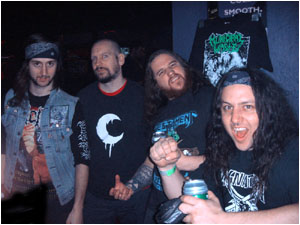 Last night in Houston, TX at The Meridian just as MUNICIPAL WASTE were getting warmed up for their show a freak flood occurred inside the venue. During Goatwhore's set, a fan decided it would be a good idea to climb on the pipes in the ceiling. Little did he know, that climbing the pipes would pull down one of the pipes causing the sprinkler system to go off and flood the venue.

The WASTE guys were in their dressing room and the fire alarm started to go off. Lead singer Tony Foresta went to the stage to find pipes shooting water everywhere. Everyone emptied out of the club into the street for the time being. The band grabbed all of their gear and brought it out of the venue and into the street.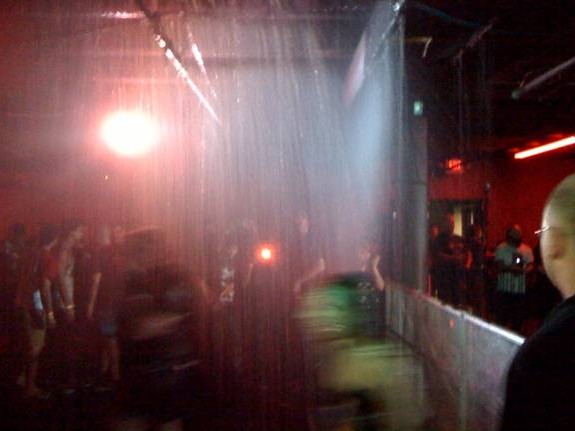 After an hour of confusion the band and the promoter decided to move the show into another room in the same venue. Once the decision was made, word of mouth got out on the street, and all of a sudden there was a larger crowd then originally had shown up for the flooded show. The band took the stage for a much longer set then usual and played crowd requests as well and in their opinion had the best show of the tour so far.

Singer Tony Foresta had the following to say about flood:

"We tried our best in a weird situation and made it better for everybody. It would not have been possible without all of the kids who hung out, and all of the kids who showed up afterward to make this a show we will never forget!"

Drummer Dave Witte chimed in as well:
"There was no way that we were gonna let something like that stop us from playing. That's why we tour, to play music and have a great time. It would have been unfair to the fans for us to not deliver! The fans support us, so we regrouped and played an even longer set than normal, it was awesome!"

Guitarist Ryan Waste got caught in the flood as well:
"All I could see was black water pouring from the ceiling. The crowd was still hungry for more so we couldn't let them down. We had to pull it together and it turned out to be one of the raddest shows of the tour."


Catch MUNICIPAL WASTE in a non-flooded venue in North America at the following shows:

SUPPORT FROM 11/06 TO 11/16
GOATWHORE, PHOBIA, CAULDRON

11/12 Austin, TX @ Red 7
11/13 Oklahoma City, OK @ Conservatory
11/14 Denton, TX @ Rubber Gloves
11/16 Tempe, AZ @ Clubhouse
SUPPORT FROM 11/18 TO 12/02
THE OFF WITH THEIR HEADS, PHOBIA, CAULDRON

11/18 San Diego, CA @ The Casbah
11/19 Los Angeles, CA @ Key Club
11/20 Anaheim, CA @ Chian Reaction
11/21 San Francisco, CA @ Slim's
11/23 Portland, OR @ Satyricon
11/24 Seattle, WA @ El Corazon
11/25 Bellingham, WA @ Wild Buffalo House of Music
11/27 Edmonton, AB @ The Starlite Room
11/28 Calgary, AB @ The Warehouse
11/29 Winnipeg, MB @ Pyramid Cabaret
12/1 Minneapolis, MN @ Triple Rock
12/2 Chicago, IL @ Subterranean
SUPPORT FROM 12/04 TO 12/11
BRUTAL TRUTH, PHOBIA, CAULDRON

12/4 Detroit, MI @ Magic Stick
12/5 Cleveland Heights, OH @ Grog Shop
12/6 Toronto, ON @ Opera House
12/7 Montreal, QC @ Foufounes
12/8 Worcester, MA @ Palladium (Upstairs)
12/9 New York, NY @ Gramercy Theater
12/10 Philadelphia, PA @ First Unitarian Church
12/11 Richmond, VA @ Alley Katz
The European tour dates are as follows:

1/19 Berlin, Germany - Magnet Club*
1/20 Stuttgart, Germany - Juha West*
1/21 Munich, Germany – Feierwerk*
1/22 Bologna, Italy - Sottotetto Club*
1/23 Treviso, Italy - New Age Club*
1/25 Hamburg, Germany - Hafenklang*
1/27 Stockholm, Sweden - Debaser
1/28 Oslo, Norway - Betong
1/29 Bergen, Norway - Garage
1/30 Birmingham, UK - Academy
2/01 Glasgow, UK - King Tuts
2/2. Leeds, UK - The Cockpit
2/4. London, UK - The Scala
2/5. Bolwerk, Netherlands – Sneek*
2/6. Amsterdam, Netherlands – Melkweg*

*Denotes shows with REPROACH

More Tour Dates
Tags:
Municipal Waste, Goatwhore, earache records
Follow us on Twitter
|
Like Us
Date: Nov 12, 2009
As Reported by:
admin