Flyleaf: The L.A. Trinity of Memento Mori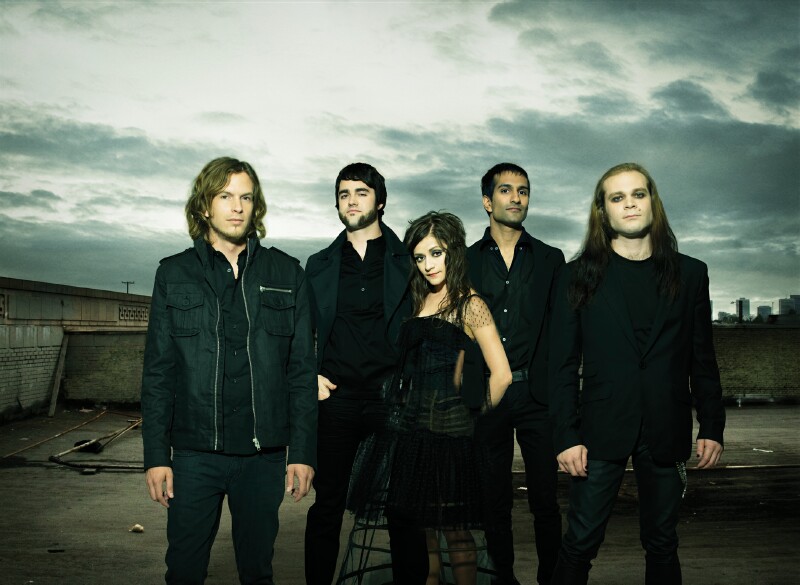 Genesis
Rising from the plains of the Wildflower Capital of Texas, this modern rock quintet took the path less traveled as they ascended the peak of Gibraltar with their barrage of impassioned performances, stimulating lyrics, visually evocative videos and tireless work ethic.
"I used to be afraid of cluttered noises. Now, I'm afraid of silence."
It's been 4 years since the release of their eponymous platinum album:
"In the Dark. In the Dark. In the Dark. In the Dark. Forsaken here by the Dark. Damn the Dark!"
What will Flyleaf's sophomore album Memento Mori sound like?
"Please give me something. I'm so thirsty. I'm SO thirsty."
As a prelude to the official club tour, the ministry of Flyleaf lays the foundation by traipsing the Road to Memento Mori care of listening events in nine key markets to preview songs from the new opus. Fans are treated to a meet 'n greet and a mini acoustic set by singer Lacey Sturm and guitarists Sameer Bhattacharya or Jared Hartmann as well as an opportunity to pre-order the new album. By doing so, one receives a limited-edition elaborately detailed litho depicting an extrapolated alternate vision of the Memento Mori artwork as drawn by bassist Pat Seals. A memento keepsake for their loyal fans.
"Take this water. Drink a little deeper."
Exodus
Abiding a mystical sonic covenant over three consecutive days, fans thrice traverse the vast urban wilderness of the City of Angels to bear witness to glory of Flyleaf.
Tuesday October 27, 2009 A.D.
"I'm scared to Death of Light and Silence."
70 mile-an-hour winds swirl outside the corporate offices of Shockhound in City of Industry, CA. Inside, a select chosen few fervent Flyleaf faithful assemble. This "secret show" was accessed by one's knowledge of the band and, more importantly, the distinct ability to creatively and expeditiously search the internet to answer five band-selected pieces of band-related trivia. 'Bambi,' the answer of guitarist Jared Hartmann's dog's name, was ironically the doe-eyed question that became the sacrificial lamb of exerted time.
Tea time and it's time to rock? On this day, half past four in the afternoon in the inner sanctum of the hallowed Hot Topic halls, the magnificence of Flyleaf oozes before our steaming eyes.
"I don't know who I am anymore. Not once in life have I been real but I've never felt This Close before."
A Chuck Woolery 2+2. Two new songs. Two old songs. The room is abuzz. Exhilaration replaces anticipation.
Autographs, photos and smiles ensue.
Set list:
Beautiful Bride
Again
Sorrow
All Around Me
Wednesday October 28, 2009 A.D.
"Unified Diversity. Functioning as one body. Every part encouraged by the other. No one independent of another."
The fall chill continues to wax its winds upon Hollywood. Several hundred of the faithful file into the back-lot of the Jimmy Kimmel show to celebrate a free Flyleaf performance at 7PM (one girl has been weathering the wait since twelve noon). After some obligatory TV IDs are cut with Kimmel, Flyleaf man the stage with Lacey ensconced in a stunning vintage black (w/ red accent) dress. Determined and exultant, the band revels in their moment. Fans rejoice in theirs.
Set list:
Again
Beautiful Bride
All Around Me
Thursday October 29, 2009 A.D.
"That night I felt like...I'd become something…treasured; different."
Minus a trio of warm-up shows in native Tejas (word up Lubbock), Flyleaf unveils its older sense of self at the 700-person capacity El Rey Theatre in Hollywood, CA. It marks the beginning of a three-week tour to play special intimate shows for their adoring fans and a chance to rev up and test-drive the new songs.
Clock strikes 9:15PM. House lights diminish. Red velvet curtain subsides. A crooked half-lit chandelier rests stage right. The opening cacophony of "In the Dark" lasers through the PA, the chandelier rises to the ceiling and all at once, the room is bombarded with the mighty weight of heavily-distorted Diezels, crashing Alchemys and towering Glockenklangs. It's a waltz through the kingdom of crunch. I was excited to hear the band open with this song as I had mentioned to them at the Shockhound Session that "In the Dark" was a favorite from the new record. It seared and soared with its imposing stature but as with the other new songs performed from Memento Mori, the textured nuances of their fraternal studio siblings rescind under the sheath of sustained amplification.
Throughout the course of the next sixty minutes, Flyleaf offered a healthy dose of mementos from Mori while disseminating requisite battle hymns from their debut and a jubilant rendition of "How He Loves Us" in which Lacey noticeably exudes exuberance while singing. This exuberance infiltrates the entire set as the band resonates visibly and audibly though at times the overzealous bombast of volume drowns out the clarity of the vocals.
"Watch the healing come, spread out your open hands."
All emotional and spiritual expeditions require a respite to reflect from time to time. These reflections flower as spoken passages from Lacey who chooses measured entry points to address the congregation from the perch of Pat's stair-step riser. In a flowing white gown hoisted above eye level, she takes on the presence of a guiding light, a guardian Angel with a positive pronouncement to sermonize. Angelic in her syntax, she encouragingly tells the assembled to let it all go and rejoice; that life is precious and everyone has a path, a purpose.
"Arise. and Be. All that you dreamed. All that you dreamed."
Lacey then asks for audience participation to sing the chorus of "Arise" the last song on Memento Mori and a beckon of hope and inspiration.
"Rejoice I want to sing with you. Hallelujah. Hallelujah. Hallelujah".
Many hearing the song for the first time join in and we boisterously finish the song Acappella. Lacey raises her hands above her head; clapping in approval as Flyleaf exit the stage. A moment of unified exaltation of unified diversity etched in time. The warm feeling of communal happiness permeates and lingers. It reminded me of the same unified "Acapella ending" during U2's Joshua Tree arena tour. House lights up, the band walked off stage and the crowd continued to sing for several minutes. Utter joy.
Set list:
In The Dark
Beautiful Bride
Again
Cassie
All Around Me
Chasm
So I Thought
The Kind
I'm So Sick
Sorrow
Swept Away
Set Apart This Dream
Fully Alive
Circle
How He Loves Us
Arise
"So sleep tonight. We'll sleep dreamlessly this time. When we awake we'll know that everything's alright."
Revelation
"You build your castles in the sky, the stars reflecting off your eyes, Angels sing on silver clouds."
I have seen the light amidst the darkness. I have heard its pristine beauty.
"For just one second I felt whole. As you flew right through me."
On the surface, the songs from Memento Mori (a Latin phrase meaning 'Be Mindful of Death') emanate confidence, maturity and purpose. Repeated listens reveal the meticulous deft production used to construct its tightly-knit precision and majestic dynamism. Memento Mori fortifies its bold vocal anatomy with layers of molten tension balanced effortlessly by melodic counterpoint. Flourishes of escalating Symphonic phrasing and hints of Middle-Eastern modalities bequeath a vacillating crescendo of Voice as provocateur; Voice as vessel; Voice as instrument. It's a modern revelatory whipsaw of emotional astral projection. Couple the aural arc with its intricate package design and a decade of back-story diaries and Memento Mori encapsulates a thorough and complete work of art.
"Raise me up to live again like you did, like you did!"
The relationship between The Commander and the sons and daughters of the Passerby Army (which is comprised of the Flyleaf Fan Club community) finds its strength in its circular symbiotic bond.
Through the course of each of these events, it's very apparent that the members of Flyleaf count their blessings and seem to understand their unique position as burgeoning role models. In addition to establishing the Flyleaf Foundation to donate to charitable causes, the band goes the extra mile to give back to their fans. This collective self-awareness of the power of their music and their stories lends itself adequately to a solitary ubiquitous mission; to use their pulpit to shine a spiritual light on the glory of life for Flyleaf's testament is a blank page prefacing the partially-written chapters of young lives and disenfranchised souls seeking the truth, a truth, any truth. Life is precious. Do with it what thou wilt:
"Arise. and Be. All that you dreamed. All that you dreamed."
Memento Mori releases 11.10.09. This reverse ascending numerology foretells a bountiful harvest.
Platitudes of gratitude to Jason at The Gauntlet, Bobbie, Chris & Kirby at Big Hassle, Danielle and Courtney at Shockhound and photographer Will "The Thrill" Urban.
"Now I am mute despite myself."
Read More News
Tags:
Flyleaf, Octone Records, Memento Mori, Jimmy Kimmel



Story by Rob Evanoff - Photos by Will Urban

November 09, 2009


More News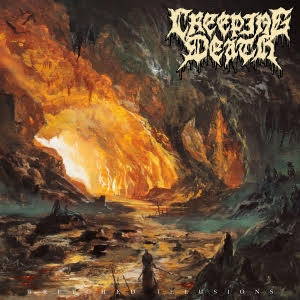 CREEPING DEATH To Kick Off Tour With Terror This Week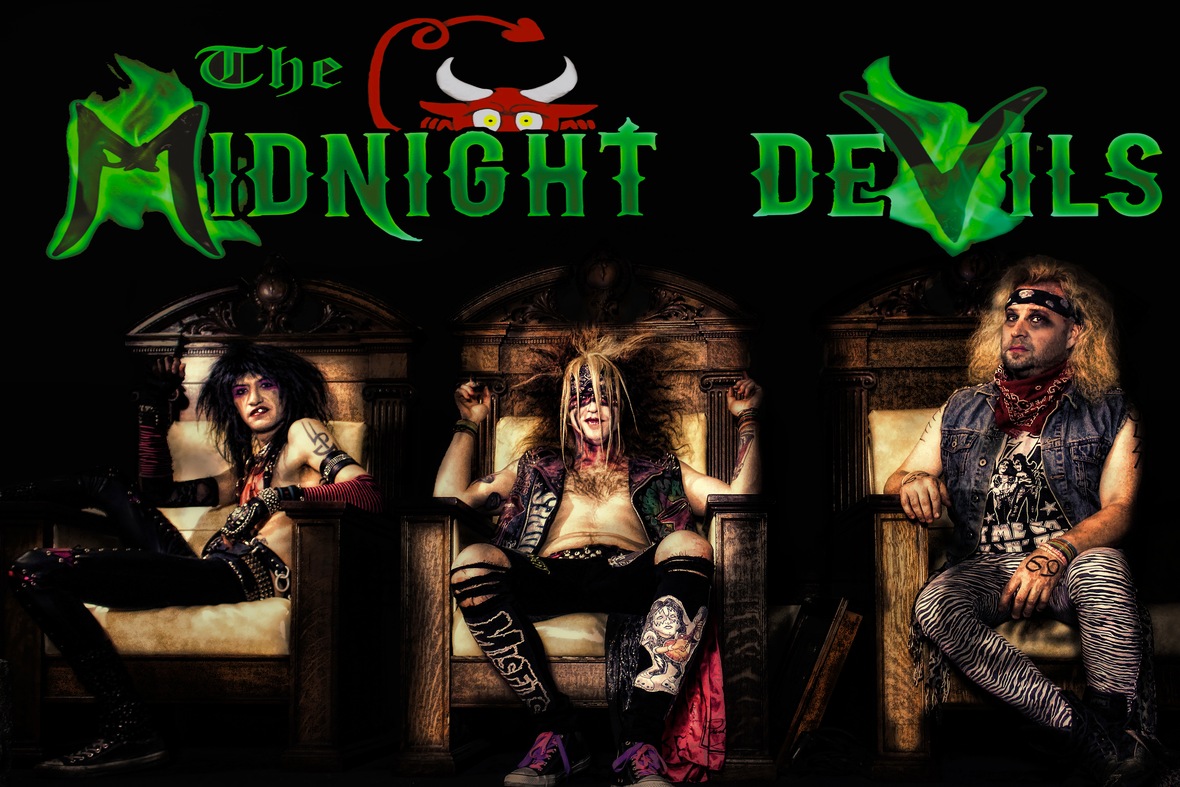 THE MIDNIGHT DEVILS Release Official Music Video for "Pink Halo"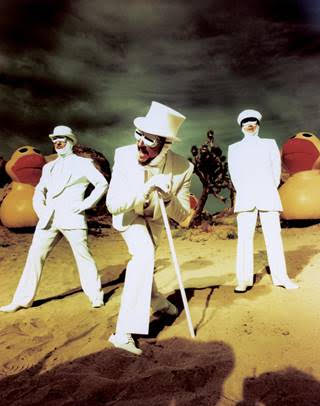 PRIMUS Announces A Tribute to Kings Tour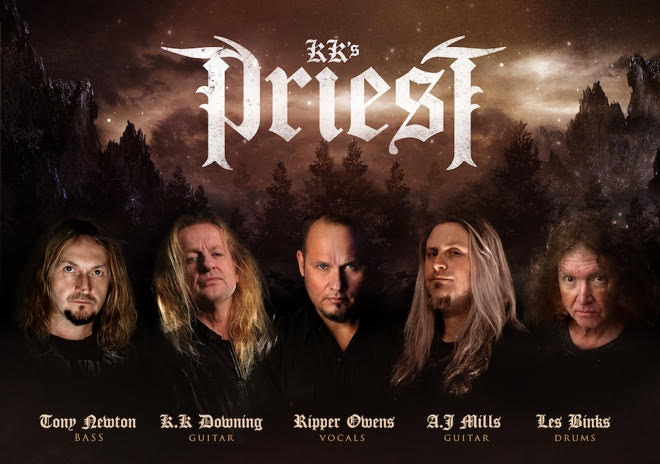 FORMER JUDAS PRIEST GUITARIST K.K DOWNING ANNOUNCES DETAILS ON HIS NEW BAND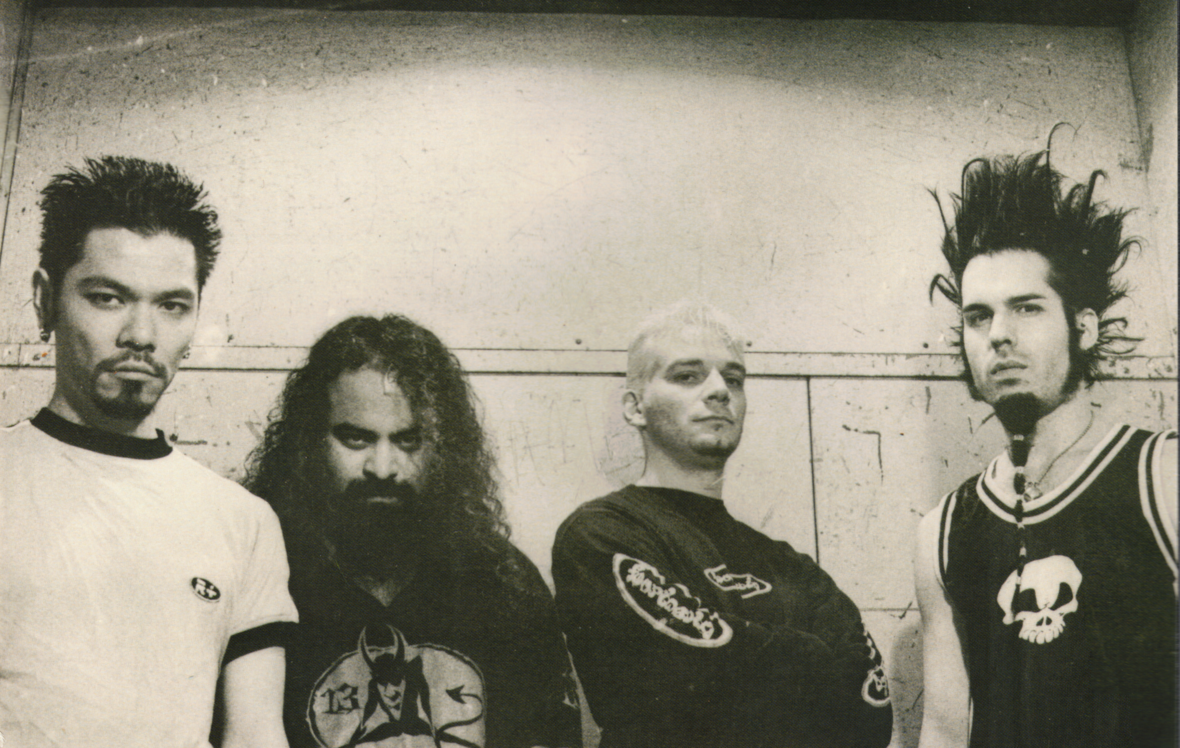 STATIC-X Releases Official Video & First Single "HOLLOW