LANDMINE MARATHON Unveil Title and Details For Upcoming Album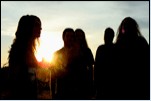 Phoenix, Arizona's LANDMINE MARATHON have announced the title and other details of their forthcoming release on Prosthetic Records. The album is entitled, "Sovereign Descent," and was recorded at guitarist Ryan Butler's Arcane Digital Recording Studios, where he's recorded past efforts from the band, as well as Misery Index, Phobia, The Funeral Pyre and many more. The album will be mastered by Alan Douches at West West Side Music (Converge, Hatebreed, Dillinger Escape Plan). The cover art is being handled by acclaimed artist Dan Seagrave who's done covers for acts such as Entombed, Dismember, Morbid Angel, Suffocation and many many more. "Sovereign Descent" will see a release in early 2010. The band documented the recording sessions via video blogs which can be seen on their SITE

The band commented, "We are really excited to be able to announce some more details about our next album, including the title, "Sovereign Descent." We have put a lot of hard work into writing and recording this album. We all agree that it is some of Landmine's strongest material so far, both musically and lyrically. Ryan really went above and beyond with the recording and mixing process. Having the opportunity to work with two people who we feel are legends; Dan Seagrave and Alan Douches is a huge honor. We look forward to sharing some of the final results soon and even more so playing these songs live on the road! "

Landmine Marathon, whose sound has been compared to early Earache acts such as Bolt Thrower, Carcass, and Napalm Death, released two full lengths on Level Plane, "Wounded" and "Rusted Eyes Awake," the latter which was reissued this year by Prosthetic Records and several split releases. The band has shared the stage with the likes of Tragedy, Kylesa, Saviours, Book of Black Earth, Coliseum and many more.

More Tour Dates
Tags:
Landmine Marathon, Sovereign Descent, Prosthetic Records
Follow us on Twitter
|
Like Us
Date: Oct 02, 2009
As Reported by:
jason