Baroness posts new track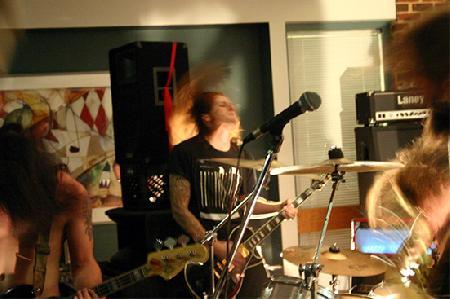 BARONESS has posted the first preview of music taken from their highly anticipated new album, Blue Record, online now exclusively via the band's MySpace page. The preview includes the album's introduction, "Bullhead's Psalm", and its successor, "The Sweetest Curse". Blue Record, the follow-up and sister album to 2007's Red Album, is set for an October 13th North American release date and is available for pre-order at this location.
BARONESS has also recently revealed Blue Record's album art, as designed by the band's own John Dyer Baizley, via the MySpace page. Blue Record's complete track listing is as follows: "Bullhead's Psalm", "The Sweetest Curse", "Jake Leg", "Steel That Sleeps the Eye", "Swollen and Halo", "Ogeechee Hymnal", "A Horse Called Golgotha", "O'er Hell And Hide", "War, Wisdom and Rhyme", "Blackpowder Orchard", "The Gnashing", and "Bullhead's Lament".
BARONESS recorded Blue Record earlier this year in Dallas, TX with producer / engineer John Congleton (EXPLOSIONS IN THE SKY, THE POLYPHONIC SPREE, BLACK MOUNTAIN).

More Tour Dates
Tags:
Baroness, John Dyer Baizley, Blue Record, Relapse Records
Follow us on Twitter
|
Like Us
Date: Aug 10, 2009
As Reported by:
admin