LORDI Mourn Death of Drummer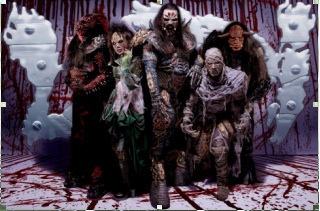 Finnish monster metallers LORDI have released the following statement:

"Our dear friend and bandmate, 'Otus' Tonmi Lillman, has sadly passed away (at the age of 38). He will be greatly missed and we send our condolences to his family and friends.

"Otus: we thank You from the bottom of our hearts for the short time we got to know you and spend with you together. Rest in peace, friend."

Members of LORDI have always worn masks to conceal their identities. Therefore, Lillman's status as a member of LORDI had never been publicly acknowledged until now.

Lillman joined LORDI in October 2010 as the replacement for Kita, who was fired from the band after he "made a decision to pursue his own career publicly as himself [under his real name], without his alter ego Kita." LORDI explained at the time that revealing a member's true identity was "in direct conflict with one of the cornerstones of LORDI's image. Therefore it is not possible for [Kita] to continue as a member of the band anymore."
More Tour Dates
Tags:
Lordi , death
Buy Lordi Merch
|
Follow us on Twitter
|
Like Us
Date: Feb 15, 2012
As Reported by:
Jason Fisher