Post a video clip of your best Ahhnold impersonation for a chance to be on the next AUSTRIAN DEATH MACHINE album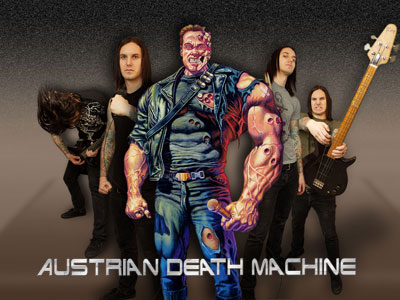 Tim Lambesis, the mastermind behind the most brutal Ahhnold band ever, is hard at work not only touring with his band AS I LAY DYING but preparing songs for the next AUSTRIAN DEATH MACHINE album Double Brutal due out early fall Doom-thousand and nine (that's 2009 for anyone who doesn't get puns). Anyone who tries to deny the plain and simple fact that ADM IS the most brutal Arnie band out there will be thrown out of the Martian mines on Mars and Ahhnold will so not start the reactor to save your pathetic life no matter what Kuato says leaving you to choke to death just before your face explodes. Anyway, here is a message from Tim Lambesis via the AUSTRIAN DEATH MACHINE MySpace page to fans of the band and those who think they can do a better Arnie impersonation…

"I was just searching the web for all things Arnold like I often do, and I came up with an idea based on these videos I posted. I'd love to see some people submit their impersonations with links to videos or audio recording. Whoever has the best impersonation can do a track with me on the new Austrian Death Machine record I'm working on right now. To be honest, I don't think anyone out there can do a better impersonation than Josh Robert Thompson, so don't compare yourself to him. Just do the best you can and have fun…I mean brutal fun of course!"

Send your video via a post to the following blog HERE by leaving a link to your video in your comment.




More Tour Dates
Tags:
Austrian Death Machine, Tim Lambesis, Ahhnold, Metal Blade Records, Arnold Schwarzenegger
Follow us on Twitter
|
Like Us
Date: Apr 30, 2009
As Reported by:
jason
This text will be replaced