Sybreed back in the studio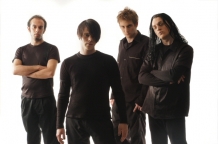 Swiss industrial metal frantic machine SYBREED is in studio recording their new album to be out on Listenable Records before the end of the year. Seth from Septicflesh is working on the artwork and layout while the final mix will be done by Rhys Fulber, known for his work with Fear Factory, Paradise Lostů

SYBREED drummer, Kevin Choiral has just signed an endorsement deal with Zildjian, Tama and Evans. Regarding his new Zildjian endorsement, Kevin announced: "For me, Zildjian is by far the best brand of cymbals; the quality, the finishes and the sound are unique. I have been using Zildjian cymbals for fifteen years and to be a part of the Zildjian family of Artists is a true honour."

More Tour Dates
Tags:
Sybreed, Listenable Records
Follow us on Twitter
|
Like Us
Date: Mar 26, 2009
As Reported by:
jason