Edguy to return to America in September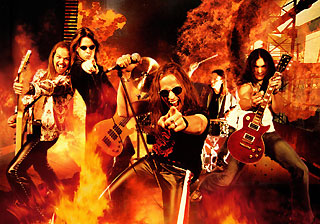 Touring in support of their Billboard Heatseekers charting new album, Tinnitus Sanctus - which was released in North America on January 27th - Germany's beloved EDGUY are headed back to the U.S. and Canada this September to play 18 shows armed with their trademarked unbreakable spirit, unbeatable tongue-in-cheek attitude, and truckloads of talent to back everything up.

Direct support will come from Wisconsin's Luna Mortis. Minnesota's Epicurean will be openers.

• 09/05/09 The Opera House – Toronto, ON – CANADA
• 09/06/09 Club Soda – Montreal, QC – CANADA
• 09/09/09 The Blender Theater (at Gramercy) – New York, NY
• 09/11/09 Jaxx – West Springfield, VA
• 09/12/09 Peabody's – Cleveland, OH
• 09/13/09 The Pearl Room – Mokena, IL
• 09/15/09 Station 4 – St. Paul, MN
• 09/16/09 Royal Albert Arms – Winnipeg, MB – CANADA
• 09/17/09 The Riddell Center (at Univ. of Regina) – Regina, SK – CANADA
• 09/19/09 Starlite Room – Edmonton, AB – CANADA
• 09/20/09 Warehouse – Calgary, AB – CANADA
• 09/21/09 Plaza Club – Vancouver, BC – CANADA
• 09/23/09 Sugar Nightclub – Victoria, BC – CANADA
• 09/24/09 El Corazon – Seattle, WA
• 09/25/09 Hawthorne Theater – Portland, OR
• 09/27/09 Slims – San Francisco, CA
• 09/28/09 Jumping Turtle – San Marcos, CA
• 09/29/09 The Key Club – Hollywood, CA

Advanced tickets are now on sale exclusively on www.Enterthevault.com through March 31st. On April 1st, they will be available through regular ticketing outlets.

More Tour Dates
Tags:
Edguy, Nuclear Blast Records, Luna Mortis
Follow us on Twitter
|
Like Us
Date: Mar 02, 2009
As Reported by:
jason
This text will be replaced