Municipal Waste set to thrash across the US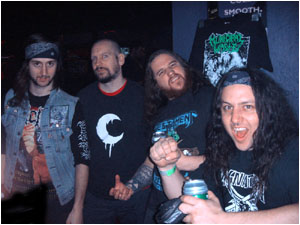 MUNICIPAL WASTE, the critically acclaimed crossover thrash act from Richmond, VA will be playing alongside such metal luminaries as LAMB OF GOD, AS I LAY DYING, CHILDREN OF BODOM and GOD FORBID on the No Fear Energy Music Tour. The tour will start on April 2nd in Phoenix, AZ and end on May 15th in Myrtle Beach, SC.

This hotly anticipated tour, sponsored by No Fear energy drink will see MUNICIPAL WASTE take their explosive blend of thrash all over the country and put them in front of some of their biggest North American audiences to date. The band, who has been cooped up in their rehearsal space for months, diligently writing and rehearsing material for their yet to be titled summer release on EARACHE RECORDS. The WASTE is eager to get back out on the road to deliver their hard-hitting flavor to every town along this tour.

"I'm excited about this tour;" says MUNICIPAL WASTE drummer, Dave Witte. "It contains a little of everything, home town buddies LAMB OF GOD, old friends GOD FORBID, friends to be made AS I LAY DYING & CHILDREN OF BODOM and of course, plenty of metal."

Witte's enthusiasm about the tour is hard to contain, especially when it comes to talking about the many faces of headbangers young and old that the band will come across during the length of this tour. For them, he leaves a special message:
"This is a perfect tour for every kind of metal head from the beginner to the seasoned veteran. Join us & come face the Waste!"

One of the advantages for MUNICIPAL WASTE being on this tour is the chance to really set themselves apart from the other bands on the lineup and turn heads as the lone thrash band on the bill.

"I think we definitely stand out on the bill, but that's a good thing;" says MUNICIPAL WASTE guitarist, Ryan Waste. "This is a chance for us to spread our style of hardcore thrash to a crowd that's probably never heard it - get ready for a full speed assault on the ears!"

Make sure to catch MUNICIPAL WASTE alongside LAMB OF GOD, AS I LAY DYING, CHILDREN OF BODOM and GOD FORBID on the No Fear Energy Music Tour!

MUNICIPAL WASTE and GOD FORBID will be alternating the show's opening slot each night. Dates where MUNICIPAL WASTE go on 2nd after GOD FORBID are noted with an asterisk (*).

April 2, 2009 – Dodge Theater – Phoenix, AZ*
April 3, 2009 – Palladium – Los Angeles, CA
April 4, 2009 – Events Center – San Jose, CA*
April 5, 2009 – Crest Theater – Fresno, CA
April 7, 2009 – Paramount – Seattle, WA*
April 8, 2009 – UBC Thunderbird Arena – Vancouver, BC
April 10, 2009 – Shaw Conference Center – Edmonton, AB*
April 11, 2009 – The Coral – Calgary, AB
April 12, 2009 – Praireeland – Saskatoon, SK*
April 13, 2009 – Convention Centre – Winnipeg, MB
April 14, 2009 – City Auditorium – Thunder Bay, ON*
April 16, 2009 – Ricoh Coliseum – Toronto, ON
April 17, 2009 – Cepsum – Montreal, QC*
April 18, 2009 – Palladium – Worcester, MA
April 19, 2009 – Electric Factory – Philadelphia, PA*
April 21, 2009 – LC Pavillion – Columbus, OH
April 22, 2009 – Tabernacle – Atlanta, GA*
April 23, 2009 – Blackham Coliseum – Lafayette, LA
April 24, 2009 – Verizon Theatre – Houston, TX*
April 25, 2009 – Concrete St. Ampthitheatre – Corpus Christi, TX
April 26, 2009 – Palladium Ballroom – Dallas, TX*
April 28, 2009 – Fillmore – Denver, CO
April 29, 2009 – Uptown Theater – Kansas City, KS*
April 30, 2009 – Myth – St. Paul, MN
May 1, 2009 – Congress Theater – Chicago, IL*
May 2, 2009 – The Pageant – St. Louis, MO
May 3, 2009 – Egyptian – Indianapolis, IN*
May 5, 2009 – Expo Five – Louisville, KY
May 6, 2009 – Fillmore Theater – Detroit, MI*
May 8, 2009 – Roseland Ballroom – New York, NY
May 9, 2009 – Convention Center – Asbury Park, NJ
May 11, 2009 – Rams Head Live – Baltimore, MD*
May 12, 2009 – House of Blues – Boston, MA*
May 13, 2009 – Washington St. Armory – Albany, NY
May 14, 2009 – The National - Richmond, VA*
May 15, 2009 – House of Blues – Myrtle Beach, SC

MUNICIPAL WASTE are currently working on a new studio album, due for release
later this year on EARACHE RECORDS.

More Tour Dates
Tags:
MUNICIPAL WASTE, Lamb of God, God Forbid , No Fear Energy Music Tour
Follow us on Twitter
|
Like Us
Date: Jan 27, 2009
As Reported by:
jason