Do you folks like coffee? Dethklok soundboard posted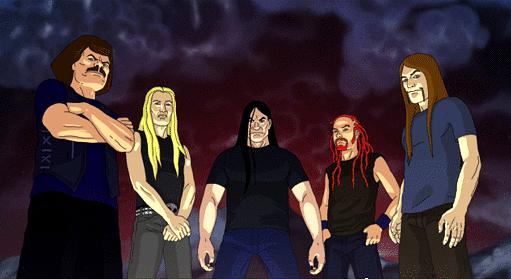 The Gauntlet has just launched an exclusive Dethklok/Metalocalypse soundboard for your enjoyment. We have loaded it up with the best quotes from season 1 and 2 of Metalocalypse on Adult Swim. You can check out the soundboard at this location.

The world's biggest, most brutal, murderous and, well, incompetent heavy metal band will once again step into the spotlight in the upcoming Adult Swim DVD release, Metalocalypse: Season Two. From Adult Swim and Warner Home Video, this DVD will be available while the band is at the top of its game – in both the real and animated worlds. Not only does the band's mega-stardom rank them as the world's 12th largest economy – but the animated band, Dethklok, has also achieved unparalleled success in the real world. The level of brutality is raised to a whole new level as the band tries its hand at electrocutions, weddings and the glamorous world of publicity in the Metalocalypse: Season Two DVD, which includes all 18 second season episodes and a slew of hidden special features that fans will have to find. That's right. Anything worthwhile demands some work. So buried within the DVD's two discs will be a host of bonus features for fans to track down and blog about.
More Tour Dates
Tags:
Metalocalypse, dethklok, adult swim, soundboard, cartoon
Follow us on Twitter
|
Like Us
Date: Nov 25, 2008
As Reported by:
jason