TURISAS Makes Triumphant Return To North America As Direct Support To Dragonforce This Fall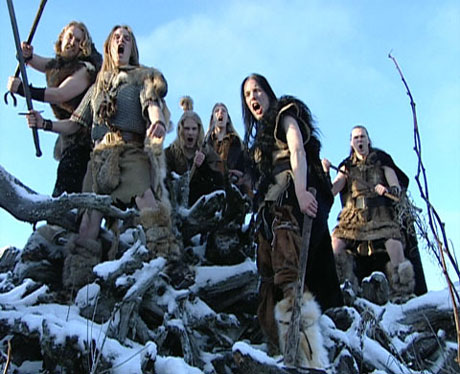 Finnish warmongers TURISAS are set to make their much anticipated return to North American shores this fall as direct support to Dragonforce. The massive two month trek, which kicks off on NOVEMBER 3rd, is the follow up to the group's highly successful run as part of Pagenfest 2008 this past spring, which also featured their fellow countrymen Ensiferum, Tyr and Eluveitie. The tour will also be in support of their forthcoming and first official DVD (more info on that TBA). The critically acclaimed new offering, The Varangian Way, was recently reissued with a DVD jammed packed with live performance footage. Be sure to visit www.myspace.com/turisasofficial now to view their complete touring itinerary and to check out their "Rasputin" video.

Warlord (vocals) further states: "Our first North American tour this spring was a success: the turnout was way over our expectations and the crowds were crazy as hell. That's why we are well excited to be returning to the new continent this fall. So lock up your livestock, beer and daughters as the battle metal legion is coming your way!"
Central to The Varangian Way is the group's concept of a journey through the East-European river route through the lands of modern day East Europe. The Northmen who traveled this path in the 9th-11th centuries were called Varangians. Key to the album's concept is a search for self and identity, both of which are explored by the protagonist in The Varangian Way's eight songs. Truly a display of the band's dedication to the conceptual elements of the album, TURISAS made sure to include cultural influences from the lands the Varangians would have traveled through.

More Tour Dates
Tags:
Pagenfest 2008, Dragonforce, Turisas, Century Media, Rasputin
Follow us on Twitter
|
Like Us
Date: Aug 26, 2008
As Reported by:
jason
This text will be replaced