BENEATH THE MASSACRE unveils DYSTOPIA artwork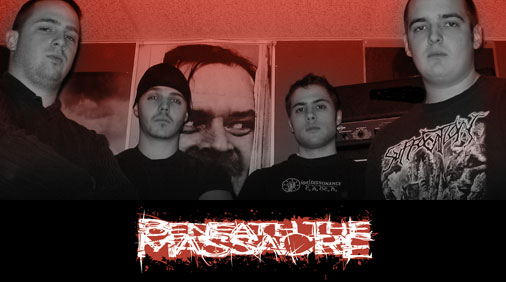 Montreal's death metal quartet BENEATH THE MASSACRE has unveiled artwork for the band's forthcoming record, 'Dystopia,' online in conjunction with the launch of pre-orders for the album. "After months of hard work in the studio, we finally have the master version of our new album entitled 'Dystopia,'" frontman Elliot Desgagnιs. "We are all very stoked by the new album as we feel that this is the best release we've ever done and we're impatient to share our songs with our fans. You can now pre-order 'Dystopia' from Prosthetic Records"

Recorded again with St-Amand (Despised Icon, Ion Dissonance, Neuraxis) and featuring artwork from Felix Rancourt, 'Dystopia' will see an Oct. 28 release through Prosthetic Records. The second in a series of in-studio video blogs online below from the recording process, with more updates to come soon. 'Dystopia' is the follow-up to 2007's 'Mechanics of Dysfunction,' the band's Prosthetic debut, which saw BENEATH THE MASSACRE hit the road with the likes of Necrophagist, Through The Eyes of the Dead, Ion Dissonance, 2007's inaugural Summer Slaughter tour and last year's Radio Rebellion Tour alongside Behemoth, Job For A Cowboy, and Gojira, among others.

The band is already hard at work on the road supporting the impending release of 'Dystopia.' "We're now ready to hit back the road starting with Canadian Summer Slaughter," Desgagnιs continues. "We'll then be on tour in the US with Necrophagist and back again in the US with Suicide Silence and Dillinger Escape Plan and we cannot wait to both play the new songs live and come back to the United States after a long time staying in Canada."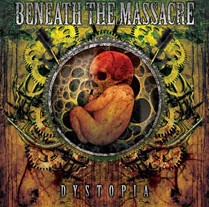 BENEATH THE MASSACRE on tour
(Summer Slaughter Canada with Necrophagist, Dying Fetus, Into Eternity, Neuraxis, Whitechapel, Veil Of Maya, Divinity, and Common Grave)
8/14 Quebec City, QC – Imperial
8/15 Montreal, QC – Club Soda
8/16 Toronto, ON – Opera House (featuring Brutal Truth)
8/18 Thunder Bay, ON – Kilroy's
8/19 Winnipeg, MB – Garrick Center
8/20 Regina, SK – Riddell Center
8/21 Calgary, AB – Warehouse
8/22 Edmonton, AB – Starlite
8/23 Prince George, BC – Roll-a-dome
8/25 Vancouver, BC – Commodore Ballroom (no Common Grave, Divinity)

(Pillage The Village Tour – Necrophagist, Dying Fetus, Beneath The Massacre, Veil of Maya)
8/26 Seattle, WA – Studio Seven
8/27 Portland, OR – Rock N Roll Pizza
8/28 Boise, ID – The Venue
8/29 Ogden, UT – Club Boom Va
8/30 Colorado Springs, CO – Black Sheep
8/31 Wichita, KS – Club Oz
9/01 St. Louis, MO – Rockstar Nightclub
9/02 Louisville, KY – Headliners
9/03 Pittsburgh, PA – TBA
9/04 Rochester, NY – The Penny Arcade
9/05 Worcester, MA – The Palladium (with Carcass)
9/07 Virginia Beach, VA – Steppin Out
9/08 Raleigh, NC – Lincoln Theatre
9/10 Albany, NY – Northern Lights

(Agents of Chaos Tour featuring Beneath The Massacre, The Tony Danza Tap Dance Extravaganza, Architects, Stray From The Path)
9/25 Danville, VA – Plan B
9/26 Charleston, SC – The Oasis
9/27 Augusta, GA – Sector 7G
9/28 Montgomery, AL – Off The Wagon
9/29 New Orleans, LA – The High Ground (with ABACABB)
9/30 Little Rock, AR – Vinos
10/01 Amarillo, TX – War Legion (with ABACABB)

(Suicide Silence, Dillinger Escape Plan, Emmure, Beneath The Massacre, Architects)
10/03 Albuquerque, NM – Sunshine Theatre
10/04 Denver, CO – Cervantes Ballroom
10/05 Wichita, KS – Club Oz
10/06 St. Louis, MO – Pop's
10/07 Louisville, KY – Headliners
10/08 Detroit, MI – Majestic Theatre
10/09 Cleveland, OH – Peabody's
10/10 New York, NY – Irving Plaza
10/11 Worcester, MA – The Palladium
10/12 Sayreville, NJ – Starland Ballroom
10/13 Montreal, QC – Club Soda
10/14 Toronto, ON – Opera House
10/15 Albany, NY – Northern Lights
10/16 Buffalo, NY – Xtreme Wheels
10/17 Baltimore, MD – Sonar
10/18 Richmond, VA – Canal Club (Virginia Metal & Hardcore Festival)
10/19 Huntington, WV – Monkey Bar
10/20 Raleigh, NC – Lincoln Theatre
10/21 Atlanta, GA – TBA
10/22 Tampa, FL – TBA
10/24 San Antonio, TX – White Rabbit
10/25 Ft. Worth, TX – Ridglea Theater
10/26 Houston, TX – Java Jazz
10/27 Tulsa, OK – The Marquee
10/29 El Paso, TX – Club 101
11/01 San Diego, CA – Soma
11/02 Los Angeles, CA – House of Blues

(with Cryptopsy, Trigger The Bloodshed, Ignominious Incarnation)
11/15 Bischofswerda, Germany – Eastclub
11/17 Hamburg, Germany – Markthalle
11/18 Berlin, Germay – Magnet
11/19 Brno, Czech Republic – Faval
11/20 Ljubjana, Slovenia – Channel Zero
11/22 Misano Adriatica, Italy – Boulevard Music Club
11/23 Rome, Italy – Circolo Degli Artisti
11/25 Munchen, Germany - Feierwerk
11/26 Asrau, Germany – Kiff Feierwerk
11/27 Utrecht, Holland – Helling
11/28 Hasselt, Belgium – Muziek-o-droom
11/29 Peterborough, UK – The Park
11/30 Birmingham, UK – The Asylum
12/01 Sheffield, UK – Corporation
12/02 London, UK – Underworld
12/04 Newport, UK – TJs
12/05 Plymouth, UK – White Rabbit
12/08 Barcelona, Spain – Sala Mephisto
12/09 Madrid, Spain – Sala Caracol
12/10 Durango, Spain – Plateruena Kafe Antzoki
12/12 Stadtmitte, Germany – Stadtmitte
12/13 Essen, Germany – Turock

More Tour Dates
Tags:
Montreal, Beneath the Massacre, death metal, Prosthetic Records, Dystopia
Follow us on Twitter
|
Like Us
Date: Aug 14, 2008
As Reported by:
jason
This text will be replaced