Flyleaf guitarist ponders a near nude Halloween; discusses 'Nightmare Revisited' soundtrack and new album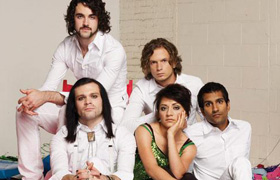 The Gauntlet recently interviewed Flyleaf guitarist Sameer regarding the band recent track on the Nightmare Revisited album. "There is no way to improve a Danny Elfman song. The only thing we can do is make it an interpretation song but still leave as a Danny Elfman song. I think we did a great job doing it. It was really cool to see how the song moves and all the key changes. For me it really helped me as a songwriter to see how it can be done in such a fluid and seamless way," Bhattacharya stated

Click here to read the entire interview and learn about why Sameer might be sporting his birthday suit this Halloween.
More Tour Dates
Tags:
Flyleaf, Sameer, interview, Danny Elfman, Nightmare Revisited
Follow us on Twitter
|
Like Us
Date: Oct 27, 2008
As Reported by:
jason