HATEBREED Post Unreleased Track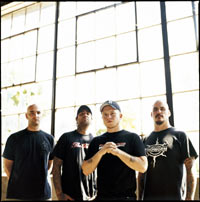 Connecticut's HATEBREED have updated their MySpace page to stream the previously unreleased track 'Pollution Of The Soul'. Check it out here.

It was announced this week that KOCH Records has entered into a new multi-tiered, worldwide deal with Hatebreed. As part of the new deal, KOCH Records will release a series of future projects from the band.

More Tour Dates
Tags:
Hatebreed, hardcore, Koch Records, Jamey Jasta, Pollution Of The Soul
Follow us on Twitter
|
Like Us
Date: Apr 11, 2008
As Reported by:
jason