The Gauntlet Live Blogs From The Golden Gods Awards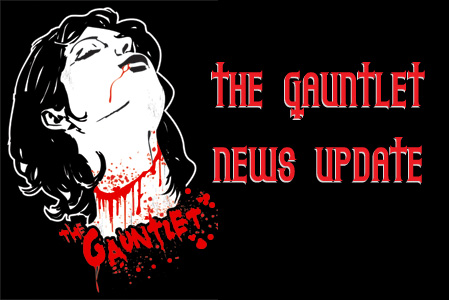 The Golden Gods have just started from The Nokia Theater in gloomy downtown Los Nageles and The Gauntlet's soon to be fucked up correspondent Dick Delicious (Dick Delicious and the Tasty Testicles) is on the scene. Just keep refreshing this page as we will keep it updated with all the happenings from the Golden Gods.

-Robert Trujillo and Lars Ulrich on stage to introduce the final performance of the night, Avenged Sevenfold

10:15pm 750 people per minute read what I say. Most bands couldn't sell that many in a decade. Fuck u a7x

10:13pm eventually a cell phone kills itself out of pure disdain, now is that time. Fuck you everyone - the next HST

-Avenged Sevenfold win Best Album Award for "Nightmare"

10:05pm a7x just won an award for something metal -- time to kill self

-M. Shadows from Avenged Sevenfold wins Best Vocalist.

10:03pm Want my opinion in under 140? U ALL SUCK!!

9:59pm some douchebags are trying to pay homoage to judas priest gay

-Duff McKagen and Loaded are doing Judas Priest "Electric Eye" with Steve Jones and Corey Taylor

-Mike Portnoy wins best drummer for his work with Avenged Sevenfold

9:41pm at this point I dont remeber what 2 tweet douchebags

-William Shatner takes home honorary headbanger award

9:34pm don't sign Dick Delicious -- we will sell way too many CD's

9:33pm We just got backstage with passes that were a year old

9:29pm the drinker I get, the more insensitive my tweets get -- deal with it

9:29pm I love black flag, but since when where they metal? posers

9:28pm Devildriver on stage, just launched into a Black Flag tribute

9:14pm I'm not saying things that will make people happy

9:02pm Volbeat is pretty good



8:59pm sepultura = metal

8:56pm Motley Crue icons of metal? Really? For the Dio award? He is now officially rolling in his grave.

8:53pm Geezer Butler awesome guest ... Trying to get backstage now.. I don't know if Dick Delicious and the Tasty Testicles is that cool

8:45pm Sebastian Bach singing "Youth Gone Wild" - shoot me up with a needle full of irony

8:33pm I'm not sure what this bands name is but I call them "A Pile of Suck" (Asking Alexandria)



8:28pm best live band is Rammstein. Has anyone seen any other bands? Or listened to prerecorded music like Justin Bieber

8:20pm if you tell me one more time who is sponsoring this I will gas all of you like hitler

8:08pm if you can't make sense of this picture it's because alice coopers guitarist got super fat



8:07pm Alice Cooper is on now and is actually awesome

8:07pm Alice Copper already? After u play I can leave

8:06pm whitesnake is not metal, I know it's 420 but you are on drugs

8:05pm seriously, best guitarist the assclown from A7X wins ... Bring death now

8:05pm Chris Jericho, put down the mic and shoot up the steroids till you die...

8:04pm stick to covers of yeah Rich from stuckmojo is still a douche. I want to beat him

8:03pm the Dj Mario looks like as big of a looks like as big of a douchebag as he sounds on thr air

8:01pm so far, really ugly crowd...where did all the metal sluts go?

7:42pm the bar has fluctuating drink prices

7:19pm GoldenGods it's official ... The dick delicious twitter cast of #GoldenGods had begun..the drunk I get the worse the spelling

7:11pm Dick Delicious is at #GoldenGods representing #teamsatan

6:15pm On way to The Golden Gods Awards #metal #GoldenGods beer and weed in hand!!
More Tour Dates
Tags:
Golden Gods , livecast , Dick Delicious and the Tasty Testicles
Buy Golden Gods Merch
|
Follow us on Twitter
|
Like Us
Date: Apr 20, 2011
As Reported by:
Jason Fisher