Impaled Nazarene Interview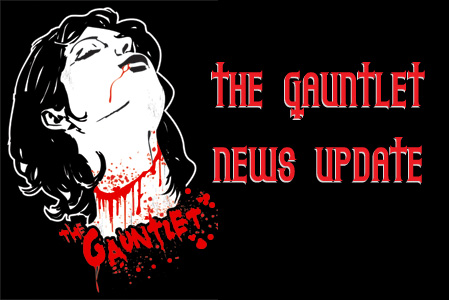 The Gauntlet: How is everything?

MIKA: I am in Paris. I am doing all the promotions for the album all week. I arrived Monday and have been doing 20 interviews each day. It's been a busy week.

The Gauntlet: How's Paris?

MIKA: This is like my 12th or 13th time here. I am really disappointed though. I figured it would be nice out because it's Spring. But today it's raining and it's fucking cold and miserable here.

The Gauntlet: I have been seeing a lot of riots on the news in Paris from all the youths.

MIKA: I haven't heard any of it. The people I am staying with live in a very quiet neighborhood. That's the last thing I fucking need, get caught up in a riot while walking in the streets. I just saw on the news there are lots of demonstrations and shit.

The Gauntlet: You have the new album 'Pro Patria Finlandia' coming out, it's fucking brutal. It seems like the trend right now is to put out a brutal album, get a fan base, then go soft, but Impaled Nazarene are going the opposite direction.

MIKA: That's fantastic isn't it! I have said it years ago, as long as we are called Impaled Nazarene we will continue doing extreme metal. We will keep it fast, brutal and heavy as fuck. At the same time we will keep that Motorhead rock n' roll feeling that belongs to this band.

The Gauntlet: The guitars are different on this album.

MIKA: Tuomo Louhio joined the band on the 'All That You Fear' album. He was also on the live album. I think you are referring to the guitar sound. We have been lacking in the guitar sound. This time since we used a new sound man, he managed to find a sound that was exactly what we were after. When I heard the sound coming from the speakers I was like 'Bloody Fucking Hell! That's it!' We should have made it this way tem years ago.

The Gauntlet: Even the slower songs have this grinding heaviness to them.

MIKA: I agree. We were writing this album after we did the live album. We had a couple of slower songs coming up. I was talking to our bass player last September. We both agreed to drop the slower songs and concentrate on a super brutal album. That was exactly the direction we should be heading.

The Gauntlet: You have always described your music as nuclear metal ever since you began distancing yourselves from the black metal scene.

MIKA: Nuclear metal is when you take the speed metal, black metal, death metal and mix it with grindcore, crustcore and throw in a little Motorhead. What you get is Nuclear Metal.

The Gauntlet: In some of the songs, I hear a Napalm Death influence, especially on 'I Wage War'.

MIKA: Definitely. That song was written by our lead guitarist who is a huge Napalm Death fan. I grew up listening to Napalm Death as well. It is one of the biggest influences to us of course.

The Gauntlet: I just saw Napalm Death live last night with Kreator.

MIKA: How was it?

The Gauntlet: Fucking awesome.

MIKA: I saw Napalm Death only once in my life. They played in Finland in 2003. It was the best show of the year for me. I was like a little kid in the front row.

The Gauntlet: In the US, we have a lot of religious nuts in the government and influencing it. Is it the same in Finland?

MIKA: Not so much in Finland, but in the European Union it is. They are really making a comeback. When I was doing the promo for 'All That You Fear' I was telling people about stuff happening in Finland. Like every Sunday, the politicians would meet with the religious leaders for lunch. The religious leaders were telling the politicians how to vote and what to do in foreign policy issues. When I heard that I was like 'what the fuck!' There is no separation of church and state. It's some fucked up shit. It's sad and it sucks. We are living in the year 2006. You would expect by now that people would have woken up and seen that the religious thing is a bunch of bullshit. For me, it seems like a dog chasing its tail. We keep going in a circle and it's never going to break.

The Gauntlet: How was the tour in Mexico?

MIKA: It was fucking great. It was our third time in Mexico. It was cool except for our last show. Our drummer got so sick that he couldn't play. Our bass player used to play drums in another band. But he hadn't played drums in six years. We were talking to the promoter. We told him our drummer was so sick and couldn't play and would have to cancel. He was screaming at us that the doors were already open and there would be riots. What the fuck could we do? I said to the bass player 'look dude, you can play drums right? You have no choice.' Our bass player took the set list and said he could play certain songs. We ended up playing 14 songs. In the end it turned out to be ok. It was very interesting to hear certain things missing that we normally hear and wait for certain drum cues. It was ok and no riots. Mexico is a crazy place. We were driving to one of the shows. Suddenly a police car stopped our tour bus. The police man came into our tour bus and ordered all the passengers off. We were just thinking 'what the fuck is this?' And then suddenly the driver of the bus was just taken out of the bus. How fucking corrupt is that place? It was scary when they started asking who the fuck we were and if we had money with us.

The Gauntlet: The way you get by the Mexican police is take a stack of American porno mags with you. When you get pulled over, you just give them a few. They love looking at naked American women.

MIKA: [laughs] That is good to know. That's fucking cool.

The Gauntlet: What's going on with the re-mastered albums?

MIKA: I am so late with this project. The re-masters should have been done two years ago. The artwork for the Rapture album is almost ready. The other album artwork is still being finished. We are going on a 10 week Euro tour. After that tour I'll finish the re-mastering. I think Rapture will be out in October or November of this year.

The Gauntlet: Any plans for a DVD?

MIKA: We just did a live album and I didn't want a DVD from the same show. What I want to do is a couple more studio albums and then I will think about a DVD. The DVD thing now seems to be a trend. Bands are releasing one album, then a DVD. Most extreme metal DVD's I have seen suck. The picture quality is OK, but the sound quality sucks. It sounds like just taken from the mixing board and not a 5.1 mix. When we do the DVD, I will definitely do a 5.1 mix. It will cost more money but be worth it. We aren't in a hurry. A live DVD isn't special to me at this time. The other thing is that I want to have more extras for the DVD. Impaled Nazarene is not a normal band. We are retarded idiots. I want to show the madness behind this band. We will have hours of extra shit. People will finally understand why the band functions the way it does. All this kind of fucking crap you can do.

The Gauntlet: Fuck the DVD, go write a book.

MIKA: Actually I have been offered a deal by a publishing company in Finland to write a book. The problem is my parents are still alive and there will be problems is they read the book. They will read it and then say I am not their son anymore. Then there are some ex-band members that will have to be divorced before I can write an honest book about Impaled Nazarene. I know that I will write the book, that's a fact. If you read the Motley Crue book, the Impaled Nazarene book will be the same. I will tell every story there is. There have been lots of crazy things going on in the bands 16 years.

The Gauntlet: What's the tour looking like?

MIKA: It's 10 weeks of Europe so we will be doing 62 shows in 22 countries. It's our longest tour ever and our biggest production ever. For the first time we are bringing our own crew. Since it is so long we want to bring our own people that we know and trust. We will be playing at this huge island off Italy and no one ever plays there. We will be one of the first extreme bands to play there. They never see extreme music unless they go to mainland Italy. We are playing a lot of other places we have never played before. I am really looking forward to this tour.

The Gauntlet: Any chance of playing a show in Vatican City?

MIKA: [laughs] Uhhh No. What do you think? I think that they will shoot us at the gates if we try to enter.

The Gauntlet: Have you ever counted how many Impaled Nazarene songs have the word 'goat'?

MIKA: It must be something like 11 or 12 in the full lengths. If you count the songs that just imply goat, it must be 50 or 60. Previously there was a lot of mention of goats, but not so much in the new album. In most cases it's just an anology or a metaphor for different things; things that are more diabolic.

Upcoming Tour Dates
Dec 12, 2013
Dec 13, 2013
Dec 14, 2013
More Tour Dates
Tags:
Impaled Nazarene , Mika , interviews
Buy Impaled Nazarene Merch
|
Follow us on Twitter
|
Like Us
Date: Mar 22, 2006
As Reported by:
Jason Fisher