SUIDAKRA Bassist Calls It Quits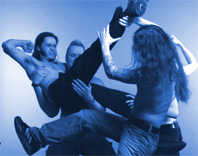 Marcus Riewaldt has announced his departure from German melodic folk/death metallers SUIDAKRA. He has issued the following statement:

"After more than 250 shows and 10 years being in the band, I feel that now time has come to change my priorities a bit and see what else life has to offer for me. No hard feelings involved; it's just that I cannot motivate myself for another writing-rehearsing-recording-promoting-touring cycle and that I'm really annoyed by some of the music business mechanisms that one has to deal with in order to continue this beautiful and exciting, but at the same time very time and energy-consuming hobby. I wish Suidakra much luck and success for the future — it would all be well deserved!"
More Tour Dates
Tags:
Suidakra
Buy Suidakra Merch
|
Follow us on Twitter
|
Like Us
Date: Aug 27, 2012
As Reported by:
Jason Fisher